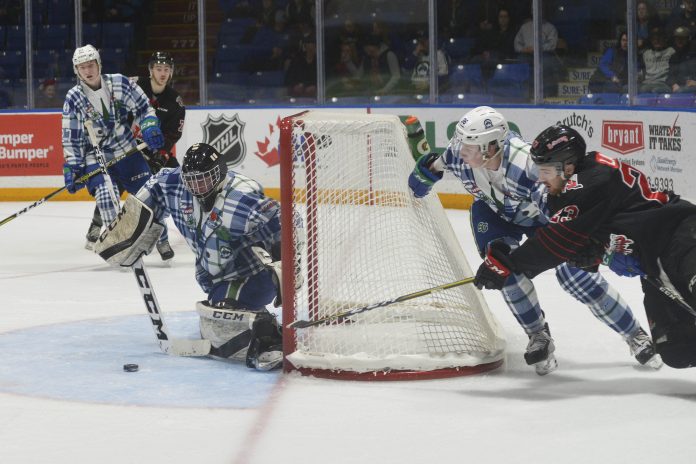 The Swift Current Broncos lost the special teams battle in a 4-2 loss to the visiting Moose Jaw Warriors on Friday.
The two teams combined for five power play goals as the Warriors finished three-for-four with the man-advantage.
The Broncos were thoroughly outplayed in the first period but earned the lead when Ethan Regnier scored on the Broncos' first shot of the game on a power play rush. Justin Almeida replied for the Warriors with a power play goal only moments after Riley Lamb had made a desperation diving save as the Warriors outshot the Broncos 14-2 in the frame.
Tristin Langan gave the Warriors the lead with a power play goal with 6:18 remaining in the second period, his 42nd goal of the season. The Broncos tied the game minutes later when captain Tanner Nagel knocked a rebound home for the fourth straight power play goal.
The Broncos had a late power play opportunity but were whistled for a careless too many men infraction and Brayden Tracey quickly made the Broncos pay with a power play goal before scoring into an empty net to close the scoring with his 28th and 29th goals of the season.
Riley Lamb made 33 saves to fall to 2-5-0-1 for the Broncos. Brodan Salmond stopped 11 shots to improve to 17-7-4-1.
The Broncos fell to 10-41-3-2, while the Warriors improved to 32-16-6-2.
The Broncos will host the Calgary Hitmen on Saturday.