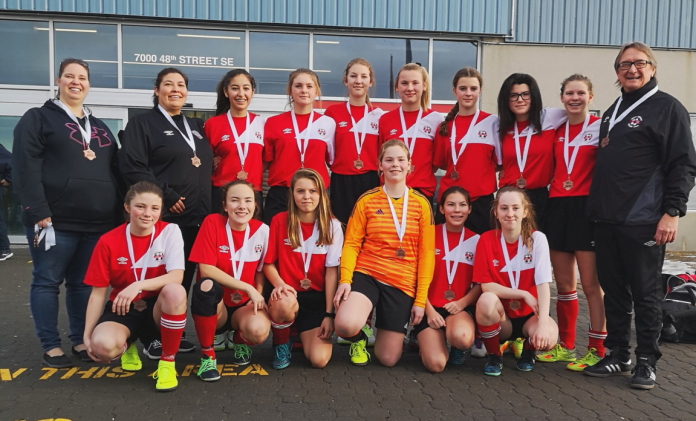 Three Border Creek United teams participated at the Calgary Minor Soccer Association Winter Classic over the weekend.
The Border Creek United teams are comprised primarily of players from Swift Current and Lloydminster.
Leading the way were the U15 United Girls as they finished with three wins and a loss to place third out of eight teams.
Friday, they opened the tournament with a 6-0 win over the DUFC Tigers. Jaycee Berggren scored five goals, while Olivia Koebel added a single. Leota Gray earned the clean sheet in goal.
The 15U Girls lost 3-2 to the Blizzards Avalanche on Saturday morning when Berggren scored in the loss.
Border Creek United rebounded later that day with a 7-1 win over the Foothills 14 Prospects. Berggren added four goals and Tenille Willows also scored.
The U15 Girls won bronze on Sunday with a 3-2 win over Leduc. Berggren won the Golden Boot as the top scorer in the tournament with 11 goals over four games.
The U13 Boys were also in action at Winterfest and won once in four outings.
They lost their opener 4-2 to MSB Arsenal on Friday. Saturday, the United Boys lost 4-1 to the LFC Titans and 6-1 to the Airdrie Aztec.
They capped their Winterfest experience with a 3-2 win over the SWU Rapids on Sunday.
The U15 Boys finished without a win in Calgary. They dropped their opening match 5-2 to the LFC Gunners on Friday.
Border Creek fell 6-1 to Foothills United on Saturday morning. They dropped their final round robin game 6-3 to the DUFC Snipers.
Border Creek United concluded the tournament on Sunday against CNEU Magic and lost a barn-burner 7-6.