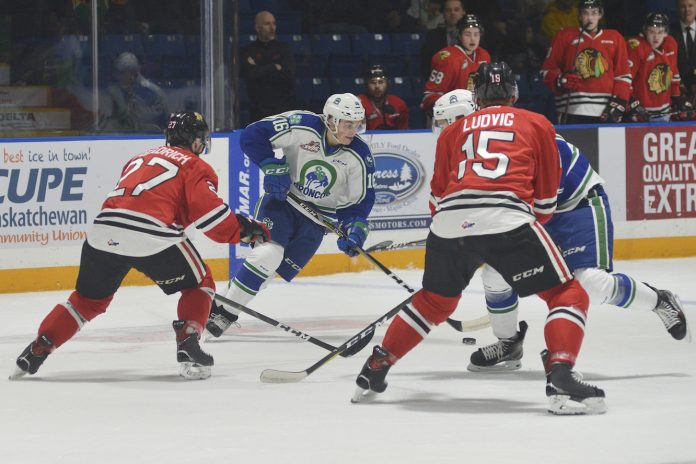 The Swift Current Broncos opened a seven-game home stand with a 5-3 loss to the visiting Portland Winterhawks on Friday. Joel Hofer keep the Broncos in the contest with 43 saves, but the Winterhawks were too much for the young Broncos in the end.
The two teams combined to score five goals in the first period, including three from the Winterhawks to carry a lead to the dressing room. Lane Gilliss scored 2:13 for an early Portland lead that lasted past the midway point of the period when the two teams combined for four goals over 7:25.
Ethan O'Rourke tied the game for the Broncos, but Joachim Blichfeld and Michael Kvasnica responded for a two-goal portland lead.
Matthew Culling quickly responded with his eighth of the season and sixth goal in the past seven games when he snapped home a high shot to the short side.
Ethan Regnier tied the game 2:46 into the second period when he blasted a one-timer into the top of the net for his seventh goal of the season.
Jayden Dureau gave the Winterhawks the lead for good 7:28 into the third period when he scored on a three-on-one with a perfect shot to the top corner. Jake Gricius added an empty net goal to close the scoring.
Hofer fell to 5-21-2-1, while Shane Farkas earned the win with 20 saves to improve to 21-9-3-2
The Broncos fell to 7-28-2-1, while Portland improved to 21-11-3-2, second in the Western Conference.
The Broncos will continue their seven-game home stand on Saturday against the Regina Pats.