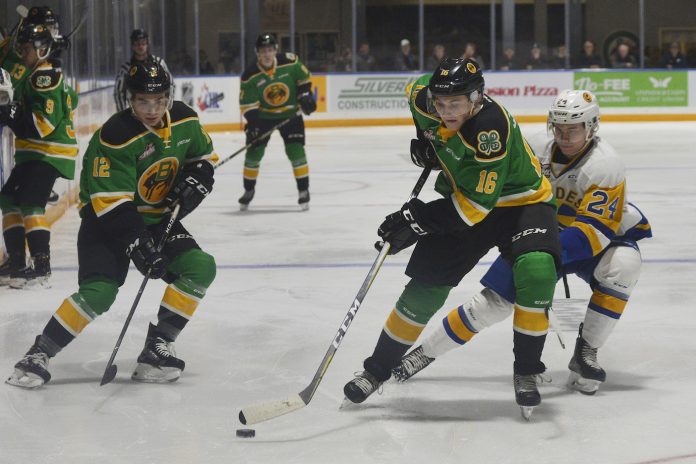 The Swift Current Broncos were fighting uphill from start to finish in a 9-3 loss to the visiting Saskatoon Blades on Sunday.
The Blades got goals from nine different skaters to snap a three-game losing streak.
The two teams combined for six goals in the first period as the Blades took a 4-2 lead.They scored on their first shot when Kristian Roykas-Marthinsen scored only 11 seconds in and Max Gerlach found the back of the net with the second shot for the Blades.
Broncos' rookie defenseman Billy Sowa found some open room and fired home a hard low shot for his first WHL goal to cut the lead in half. The Blades quickly responded with goals from Majid Kaddoura and Nolan Keen for a 4-1 lead.
Rookie Matthew Culling closed the period scoring when he tallied for a fifth straight game with 1:42 left in the period.
The teams added three more goals in the second period. Kirby Dach scored shorthanded and then Joona Kiviniemi replied on the same power play for the Broncos. Riley McKay quickly responded for the Blades 45 seconds later for a 6-3 lead after two periods.
Chase Wouters scored 1:43 into the third period for a 7-3 lead. Zach Huber added a tip-in goal midway through the period for the Blades and Josh Paterson added a late goal to close the scoring.
Broncos rookie Isaac Poulter took the loss with 38 saves on 47 shots to fall to 2–7-0-0. Nolan Maier made 12 saves to improve to 18-8-4-0 for the Blades.
The Broncos fell to 7–26-2-1, while Saskatoon improved to 22-11-5-0.
The two teams will rematch on New Year's Day in Saskatoon.