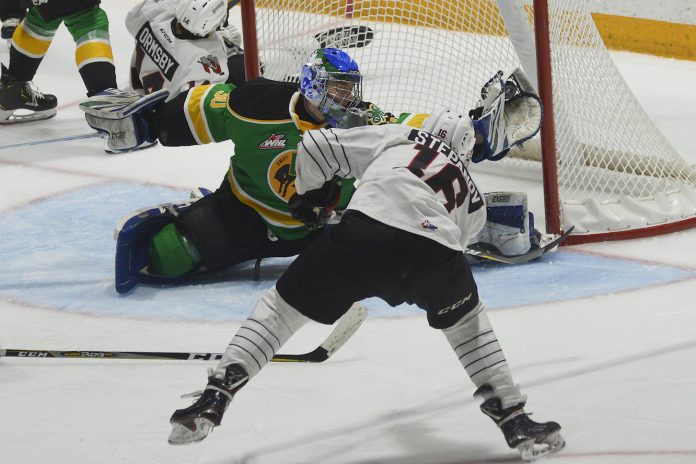 The Swift Current Broncos took a point off the Moose Jaw Warriors in a 4-3 overtime loss on Friday.
The host Broncos held 2-0 and 3-2 leads, but Tristin Langan and the Warriors were too much for the Broncos one night after the Broncos had defeated them in overtime in Moose Jaw. Langan fired 12 shots on goal and scored the final two goals, his 25th and 26th of the season, including the overtime winner on the power play.
Joel Hofer took the loss despite making 35 saves to fall to 5-20-1-1. He made desperation glove saves off of Daniil Stepanov and Keenan Taphorn to keep the Broncos even in the second and third periods.
Adam Evanoff improved to 8-5-2-0 with 24 saves.
The Broncos shot out of the gates with early goals from Ethan Regnier and Alec Zawatsky 3:59 apart. Regnier beat Evanoff with a perfect top corner shot and Zawatsky tapped home a rebound for his team-leading 12th goal of the season.
Daemon Hunt cut into the deficit late in the opening period and Justin Almeida tied the game 41 seconds into the second period.
Matthew Culling spun and fired from the slot as he scored for a fourth straight game for the Broncos midway through the period to give the Broncos another lead before Langan took over the contest.
The Warriors were one-for-five on the power play, while the Broncos were unable to score on any of their five power play opportunities.
The Broncos improved to 7-25–2-1 as they passed the midway point of the regular season, while Moose Jaw improved to 18-8-5-1 to remain third in East Division.
The Broncos will host the Saskatoon Blades on Sunday at 4 p.m.