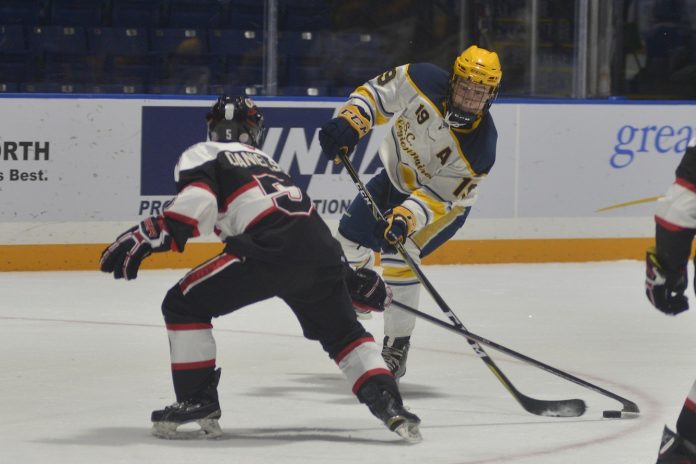 The Swift Current Home Hardware Legionnaires found a way to win on consecutive days as they swept the visiting Beardy's Blackhawks over the weekend in the Saskatchewan Midget AAA Hockey League. The Legionnaires won both games by one goal to improve to 4-2 on the season.
Saturday, the Legionnaires scored four power play goals, including the winner from Mason Strutt, in a 5-4 overtime win.
"They took a dumb penalty. We came at them flying on the rush and Hank (Hendrik de Klerk) passed to me in the middle. I got a nice shot off and fortunately it went in," explained Strutt.
The Legionnaires trailed 2-1 after one period, fought back to even the game 3-3 after two periods, and scored a late power play goal to force overtime.
Christian Albertson led the way with a hat trick, while Boston Bird notched three assists and Ethan Hein picked up the win with 23 saves.
Joe Arntsen added a goal and an assist, while de Klerk and Lucas Ochitwa each added two assists. Kersey Reich and Reed Jacobson also picked up single helpers.
Sunday, the Legionnaires built up a 5-1 lead and then held on for a 5-4 win. Chase Gallant assisted on four goals, while Strutt added a goal and two assists. de Klerk and Logan Linklater each added a goal and an assist. Reich and Bird also scored in the win. Jacob Herman earned the win with 23 saves on 27 shots.
"It's always nice to come out of the weekend with four points," said Strutt. "That puts us tied for second place now, so that's huge."
The Legionnaires are in Moose Jaw on Thursday to face the Generals. They also will head to Regina on Tuesday to battle the Pat Canadians.