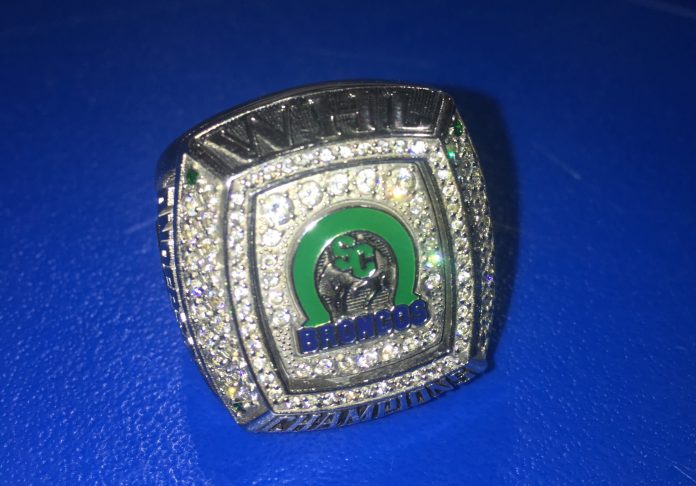 While Swift Current Broncos fans have been clamouring for souvenirs to commemorate the 2018 Western Hockey League Championship, Broncos players and staff have the ultimate keepsake with their championship rings.
Returning players, such as forwards MacKenzie Wight and Tanner Nagel, received their rings when they got back to Swift Current.
Wight returned to Swift Current early to help coach at the Broncos Hockey School.
"Butter [trainer Jamie LeBlanc] surprised the boys with receiving our rings. It's a feeling that a lot of players don't get. Every year only one team gets it. Being a part of that good a group and accomplishing so much is a really weird, cool experience," said Wight.
"I came back here and came to talk to Buttsy," explained Nagel. "He said he had a surprise for us. He grabbed it and showed it to me and I was just kind of speechless. I couldn't believe it. It's still pretty unbelievable. Just to get it from him was something special for sure."
Receiving the rings brought some memories rushing back for Nagel and Wight.
"There's a lot of things that it brought back. It was just how much fun we had doing it and just the feeling you got when we won. I could picture when that buzzer went in the third period of that last game in Swift Current and how loud it was. Just throwing my gloves up and getting in the pile with the boys, it was awesome," said Nagel.
"Yeah it brought up all the highlights like winning tournaments as a young kid, this is just way bigger though," added Wight.
Wight said his ring was stored safely at home.
"I've worn it a couple times out to dinner just to show people," said Nagel. "It came in these nice little glass case boxes and it kind of just sits in my room. I will pull it out to show people, but I'm probably not going to wear it too much."
The rings were dispersed to the Board of Directors, office staff, scouting staff, hockey operations, and, of course, the players, including playoff call-ups.
The championship rings include the Broncos logo and the four-leaf clover honouring the four Broncos killed in the 1986 bus crash.
"On the inside we have the 26 games we played in the playoffs, which was pretty cool, and then our playoff slogan, which is awesome to see. It's honestly such a beautiful ring, there's so many little details to it that you really have to see it to appreciate," explained Nagel.
The team's playoff slogan was a dictionary definition of the word passion:
"Passion. [pash-uhn] 1. to suffer for something you truly care about."
The number 26 represents the Canadian Hockey League record 26 playoff games the Broncos played to advance past the Regina Pats, Moose Jaw Warriors, Lethbridge Hurricanes, and the Everett Silvertips, culminating with a 3-0 win over the Everett Silvertips on May 13.
LeBlanc, the longtime Head Athletic Trainer and Equipment Manager, helped design the rings.
"I kind of worked with Jamie Porter and Gawds [Glenn Gawdin] to design it. Every time I see it or every time I looked at it or when they showed up my mind went right back to the Sunday night against Everett, 10 seconds to go and the atmosphere in here was unbelievable. I have never heard it this crazy… Then seeing the players and our staff that have battled through the whole year, especially guys like Gawds and [Tyler] Steenbergen and Siss [Colby Sissons], guys who were with us for a long time and knowing that they had a chance to win, that for me is the memory of it all."
LeBlanc has also had the privilege of presenting many of the rings to the returning players.
"It's cool. You can just see it on everybody. They come in and I give them the ring, it's not like it's a big presentation, I'm just a low-end trainer here that gives it to them. They're pumped. Guys have a smile from ear to ear. They're so happy to see it. Always they put it right on and they're looking at it. It's pretty cool and it's rewarding. That was a pretty special year last year and for everybody it just brings back the memory. Everybody has their own thoughts on what they remember from the year or playoffs, but you can just see it's like a little euphoria for everybody. They're just happy as can be as soon as they see it."
LeBlanc has also been in charge of the sizeable effort to get the rings out to players and staff who are scattered across the country and beyond.
Porter was able to distribute a bunch of the rings around the Edmonton area. LeBlanc's wife recently hand delivered another group of rings in the Calgary area, while former assistant coach Jamie's Heward's wife was taking a bunch of rings to the Vancouver area. LeBlanc said he still had a handful of rings to ship out to players.
LeBlanc said the Broncos spent about six weeks on finalizing the design of the rings. After everyone was sized up then it took Jostens another six to eight weeks to manufacture the rings.
The fans will get their own chance to commemorate the championship season on September 21 when the Broncos raise the Eastern Conference and WHL Championship banners prior to the season opener. They will be the first two banners to be raised at the Innovation Credit Union iplex since 2001.