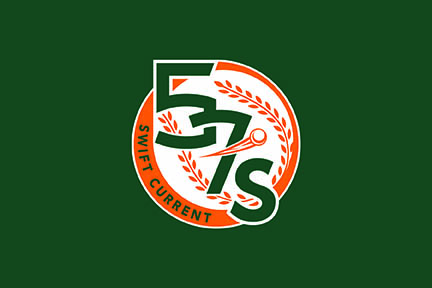 A pair of big innings cost the Swift Current Midget AAA 57's two road games against the host Southeast Twins in Weyburn on Sunday.
The 57's led the opener 7-1 in the final inning before allowing eight runs to lose 9-7.
All nine 57's had hits, led by two-hit outings from Logan Fritzke, Brody Alexandre, and Mac Gross. Alexandre, Gross, and Brock Wall also finished with two runs batted in, while Fritzke scored three runs.
The 57's also stole seven bases in the loss, led by two apiece from Quinn Patenaude and Fritzke.
The 57's also lost game two by a 9-7 tally after a seven-run fourth inning from the Twins. The 57's had scored four runs in the third inning and fought back with a three-run seventh inning, but were unable to fight all the way back.
Nolan Klein doubled, scored, and finished with three RBI's. Leadoff man Quinn Patenaude scored twice. Gross doubled and brought home two runners to score. Nic Bachiu added a pair of hits.
The 57's dropped to 4-12 in the Saskatchewan Premier Midget AAA Baseball League. They will return to action on Saturday when they host the Saskatoon Giants in a double header beginning at 1 p.m.