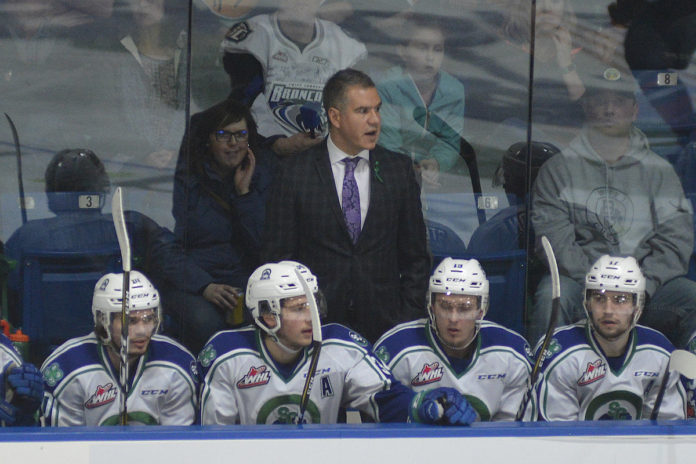 With the start of the 2018 Rogers Western Hockey League Championship series only two days away, the Swift Current Broncos collected some hardware at the WHL Awards in Red Deer on Wednesday.
In just his second season of coaching in the WHL, Broncos head coach Manny Viveiros was the recipient of the Dunc McCallum Memorial Trophy as the WHL Coach of the Year. Viveiros led the Broncos to a 48-17-5-2 mark this season, the second best record in the WHL and the second highest point total (103) in franchise history. The Broncos finished the season ranked fourth in the CHL Top 10.
"There's a number of things," said Viveiros when asked what makes the 2017-18 Broncos so special. "First of all, I've got an outstanding supporting staff as far as coaches and training team. They make my job so easy. The kids on our hockey club they're so easy to teach and to coach. I've learned just as much from them as they are supposed to learn from us too. The biggest thing that we talk about is, not only just the hockey side of it, our job as coaches and an organization, as well as everybody else in this room here, all the member clubs here, our job is to make it it a positive environment here for these kids. When they have the opportunity to leave their Western Hockey League career, they leave with a positive remembrance, so a positive [experience] going forward in their careers."
Viveiros beat out Silvertips' coach Dennis Williams for the award.
Viveiros made sure to recognize Broncos fans while accepting his award in Red Deer.
"From us and the kids we don't see much. We're at the rink and home and sleeping the whole time here. Outside of that everybody is behind us and it really has made a difference for us in the playoffs, especially at home here it's like sometimes we have a seventh man on the ice."
Aleksi Heponiemi won a WHL award for the second straight year. One year after being named the WHL Rookie of the Year, the Tampere, Finland product collected the Brad Hornung Trophy as the WHL Most Sportsmanlike Player of the Year.
Following up on teammate Tyler Steenbergen's win last year, Heponiemi was whistled for only 28 penalty minutes in 57 games to go along with 28 goals and 90 assists. He currently has 24 points without a single penalty minute in 20 playoff games.
"Obviously it means a lot to me," said Heponiemi. "It is an honor and it is great to be able to be here this year. Obviously I couldn't do it without my great teammates and coaches. They help me a lot. It's just great to be here."
Heponiemi beat out Portland's Cody Glass for the award. "It's all about my teammates. It's a team sport. Obviously it is easy to play with guys like Tyler Steenbergen and Glenn Gawdin. It was just a good year for us. We played well," he added.
Logan Flodell, who started the season with the Broncos, was the Eastern Conference nominee for the Goaltender of the Year, but lost out to Everett's Carter Hart.
The 2018 WHL Bantam Draft will also be held Thursday in Red Deer.
The Broncos and Everett Silvertips will open the best-of-seven 2018 Rogers WHL Championship Series with games one and two on Friday and Saturday in Swift Current.