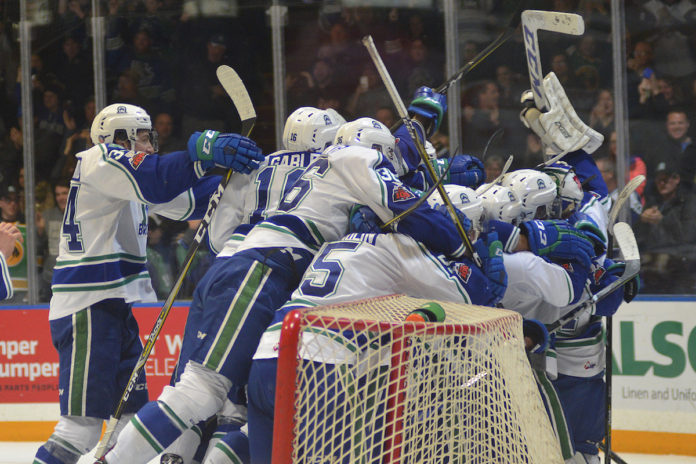 The Swift Current Broncos held on for a 3-2 win to move past the Regina Pats in the seventh and deciding game of the Western Hockey League East Division semi-final series.
In their ninth consecutive head-to-head meeting over the past 18 days, the Broncos scored three straight goals after falling behind early and held on for a narrow win.
Captain Glenn Gawdin notched the winner, while Stuart Skinner made 36 saves to lift the Broncos to the series win.
"It's unbelievable," said Gawdin, who was a member of the Broncos last season when they lost in game seven in Regina in the second round. "Just how everything ended last year playing these guys, for us it was redemption and not just our team, the guys that played for Calgary and Lethbridge that got beat out by these guys. So there was a lot more than just our series on the line from last year to come back and beat these guys."
"It was amazing," said Skinner of the feeling inside the dressing room. "It was probably one of the best feelings I have had in my junior career. Just the fact that we were able to get it against Regina and the fact that we worked so hard for this and everything we did in the past and leading up to this series. We did everything that we could to get the win every night. It is a sweet, sweet feeling being able to hug my family and being able to see all the 25 family members smile and be really happy about it."
The Broncos fell behind 6:07 in when Cameron Hebig kicked in a loose puck from just outside the crease for his sixth goal of the series. The Broncos tied the game up 5:07 later when Tyler Steenbergen snapped home his sixth goal of the series for a 1-1 tie after one period.
The Broncos earned their first lead in the second period when Max Patterson fired home his second of the series. Gawdin one-timed home a centering feed from Aleksi Heponiemi to make it 3-1 for the Broncos. Robbie Holmes shoveled home a lose puck minutes later to make it 3-2 after two periods.
The Broncos bent but did not break in the final frame to close the series out.
"That was just our mindset. We knew 3-2 going into the their period of game seven, that's all we had to do. If we had an opportunity to go take it and go score obviously we are going to do that, but our main focus was shutting them down and limiting their opportunities," said Gawdin of the scoreless third period.
Ryan Kubic took the loss with 18 saves for the Pats, who will still play in the Memorial Cup as the host team.
Skinner finished the series with a 0.926 save percentage as he bounced back from a rough outing in game six two days earlier.
"It was fun," said Skinner of his busy night. "Obviously in moments like this is a little bit of stress and a little bit of hype on it. There is a lot of pressure, not just on me, but on the whole team. I was just really happy that we were able to fight through that and work as a team. I think that is the reason that we won was that even though we had pressure, some stress on us, even though it was game seven we stuck together as a family and that was a game changer for us."
The game was played before a deafening sold-out crowd for a fourth straight game in the post-season.
"It was amazing. I think the fans help us so, so much. They give us so much energy and they make sure that we're focused. We have to give a big thanks to the fans and the crowd that we had out tonight. If we didn't have them and they weren't as loud it could have been a different story. We have to give a lot of props to the fans upstairs," said Skinner.
The Broncos will now meet either the Moose Jaw Warriors or Prince Albert Raiders in the East Division final. Game seven of that series will be Tuesday in Moose Jaw.