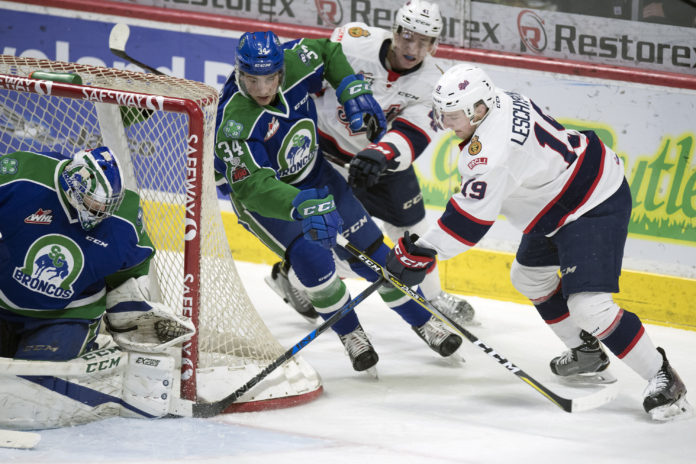 Stuart Skinner's mastery of the Regina Pats continued as he led the Swift Current Broncos to a 4-1 win to take a 2-1 series lead in the best-of-seven East Division semi-final.
Skinner, the same day as he was named the WHL Goaltender of the Week, made 39 saves on 40 shots to lead the Broncos to the win in their first road game of the post-season.
Captain Glenn Gawdin led the Broncos with two goals and one assist and linemate Tyler Steenbergen added three assists in the win. Overage forward Giorgio Estephan added two assists for the Broncos.
The Broncos were outshot 14-8 in the opening period but scored twice to take control of the game. Colby Sissons became the first defenseman to score in the series when he tallied 8:11 after the opening face-off. Gawdin added his first of the series at the 13:58 mark while on the power play on a perfect pass from Estephan.
The second period was scoreless as the Pats held a 16-11 advantage on the shot clock.
Tanner Nagel added an insurance goal on a rebound 5:09 into the third period increase the lead to 3-0. Emil Oksanen got the Pats in the board with 8:26 left, but Gawdin replied only 42 seconds later with his second goal of the game.
Ryan Kubic took the loss with 20 saves on 24 shots. Skinner now has a 0.972 save percentage and a 1.01 goals against average in the series. He was 5-0 with a 1.20 GAA and a 0.964 save percentage during the regular season against the Pats while with the Lethbridge Hurricanes and the Broncos.
The Broncos finished one-for-five on the power play, while killing off all five shorthanded situations. The Broncos, who led the WHL on the power play at 29.4 percent in the regular season, are operating at 15 percent through three post-season games. Their penalty kill has been dynamite at 92.9 percent.
The two teams will meet again in Regina for game four on Wednesday.