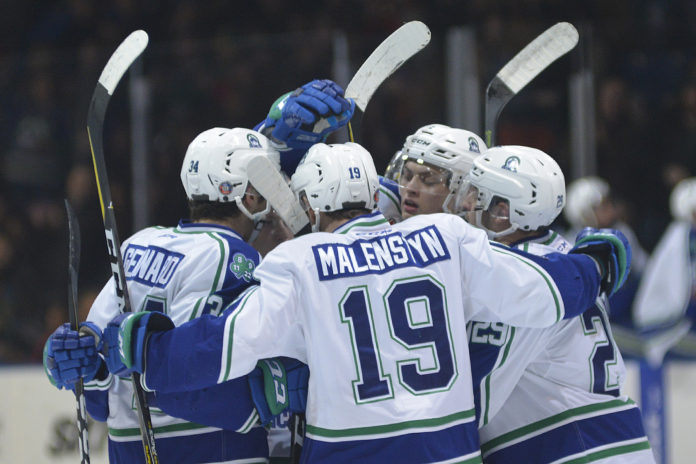 The Swift Current Broncos doubled up the visiting Moose Jaw Warriors for their 11th straight home win to pull even with their East Division rivals with 91 points atop the Western Hockey League.
The highly anticipated meeting between two of the top four ranked teams in the Canadian Hockey League lived up to its billing as the teams battled for 60 full minutes.
The two teams traded power play goals in the first period. Aleksi Heponiemi fired home his 26th for the Broncos, while Tanner Jeannot knocked home a loose puck for the Warriors as the Warriors outshot the Broncos 16-6.
The Broncos were much more active in the second period and capitalized when Max Patterson scored a breakaway goal on an easy easy backhand deke.
The Broncos stretched their lead in the third period when Beck Malenstyn converted a Glenn Gawdin feed for a shorthanded goal. The two-goal lead was short-lived when Jayden Halbgewachs scored on the same power play, his league leading 57th goal of the season.
Colby Sissons restored the two-goal margin with a power play goal when he picked the top short side corner to close the scoring.
The Broncos finished two-for-four on the power play, while the Warriors were two-for-six.
Stuart Skinner improved to 26-18-3-0 with 35 saves for his 100th career WHL win. Brody Willms took the loss with 21 saves on 25 shots to fall to 31–10-1-2
The Broncos improved to 43-13-4-1, while Moose Jaw dropped to 44-12-1-2. The teams are tied in points, but the Warriors do hold two games in hand.
The Broncos are now 4-3-0-0 against the Warriors this season. The final regular season meeting will take place on March 10 at Mosaic Place in Moose Jaw.
The Broncos will now embark on a three-game Alberta road trip, beginning Saturday in Red Deer.
Extras: the Warriors were without regulars Jett Woo and Barrett Sheen, who were both out due to suspension. Scratches for the Broncos were Mackenzie Wight, Quinton Waitzner, and Connor Horning. Tanner Nagel returned to the line-up after missing four games due to injury. Gawdin collected his 300th career point in the game. Bronco defenseman Artyom Minulin finished with three assists.