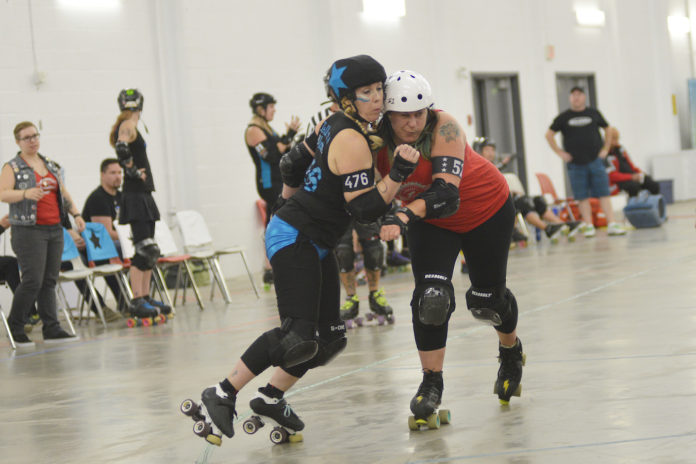 Redneck Betties skater Bellicose Blonde recently had the opportunity to test her skills against some of the top roller derby competitors in the world.
Bellicose Blonde, also know as Carisma Toles when she not on the track, recently suited up for Team Saskatchewan at the Battle of the All-Stars State Tournament in Hatfield, Pennsylvania on Jan. 11-14.
The sixth annual event featured 15 state all-star teams and Saskatchewan, who became the first Canadian team to ever participate in the Battle of the All-Stars.
"It was four days of just being immersed in roller derby. I think there was 42 games played in total over four days… I think the neat thing about it was, as much as everything was different, it was totally the same. Everyone plays the same. Everyone gets along the same, does the same things. Teams have their highs and lows. So it was kind of neat seeing that," said Toles, who was a member of the original Redneck Betties team eight years ago.
Saskatchewan took on all-star teams from Maine, Massachusetts, Michigan, Kansas, and Kentucky, but were unable to come away with a win.
"As much as of course you want to win, we were okay with that. We went in ranked 16th and we came out ranked 16th. We didn't know what to expect going down there. We didn't have our whole team as well. We were allowed to take up to 20 players and we only had 13… I think for next year everyone is quite excited and we know what we need to do, what we need to work on, what we need to bring in order to improve next year."
Toles played pivot for Team Saskatchewan during her third season with the team. "The pivot is a blocker, but I'm the blocker that has the stripe on the helmet, so the jammer can pass the star to me and I become the jammer," she explained.
The game MVP awards were debated by the two on-air announcers and two in-house announcers and Toles was named Saskatchewan's MVP in their bout against Michigan.
Toles was more than impressed with the support from the roller derby community and her hometown.
"The support back here was amazing," noted Toles. "Between viewing parties in Saskatchewan and Alberta it was almost impossible to keep up with all the Facebook messages. Even here in town there was people watching at work, two of the schools streamed daytime games, so the kids were watching games. It was just neat to have such excitement about it."
Read the Feb. 1 edition of the Southwest Booster for the complete story