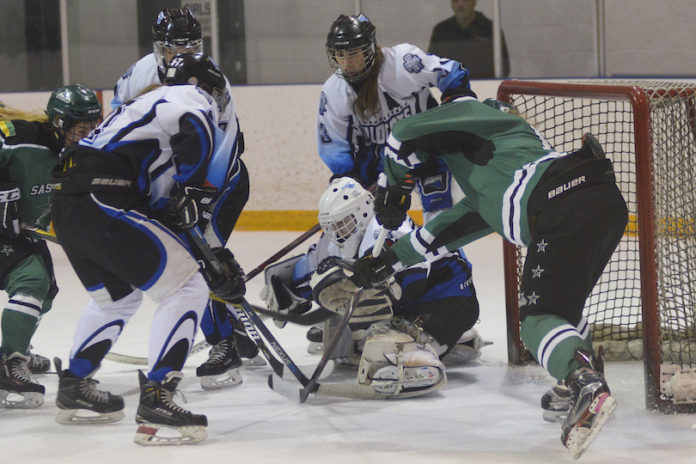 The Swift Current Diamond Energy Wildcats had a memorable weekend as they earned four of six points while handing the visiting Saskatoon Stars their first Saskatchewan Female Midget AAA Hockey League loss of the season.
Saturday, the Wildcats scored the first three goals to take a point off the Stars in a 4-3 overtime loss.
The Wildcats got a pair of goals from Taylor Lind and a single from Crystal Wale over a 14:29 span in the second period for a commanding lead.
The Stars replied with a late second-period goal from Chace Sperling and then Joelle Fiala and Grace Shirley scored in the third period. Jordyn Holmes scored in overtime for the Stars.
Baylee Kirwan assisted on two goals for the Wildcats, while Kenedee Klevgaard and Sara Kendall added helpers.
Harper Davey made 24 saves on 28 shots for the Wildcats, while Arden Kliewer made 17 saves for the Stars.
Sunday, the Wildcats again led 3-1 after two periods, but avoided their past mistakes as they scored three goals in the final frame for a convincing 6-1 win over the defending league champions.
"It feels really good," said Carissa Hogan after the win. "We came out really hard and we stuck through it all the way to the end. Last night's game, the last five minutes it obviously didn't turn out the way wanted it too. We just stuck with it through the whole game today and came out with the win."
Taylor Lind led the way with two goals and one assist, while Ryleigh White added a goal and an assist. Sara Kendall, Hogan, and Brooklyn Colborn also scored with assists from Tenelle Lind, Trista Labarowski, and Layne Hryhoriw. Amaya Giraudier earned the win with 20 saves on 21 shots.
"We made sure that we had that F3 high all the time," explained Hogan of the team's ability to protect the lead Sunday. We had our gap, our gap was good and that makes a difference. Everybody contributed, whether it was blocking shots, being hard on pucks, chipping pucks out, whatever anybody could do to contribute in that game."
The Wildcats improved to 7-6-0-3, while Saskatoon dropped to 12-1-2-0.
The Wildcats will return to the Mac's World Invitational Tournament in Calgary after Christmas. They open the tournament against the Rocky Mountain Raiders on Boxing Day. The Wildcats will also face the Vancouver Island Seals, Regina Rebels, and Fraser Valley Rush in the round robin.
"For us as a team we just have to play like that every game," said Hogan. "We can't have shifts on and shifts off. We have to make sure going into the Mac's that we play hard and bear down and go into it like we are going to play hard."