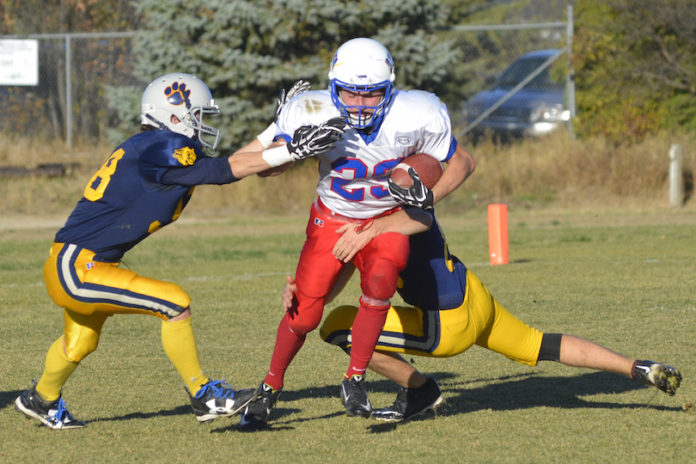 The Gull Lake Lions and Caronport Cougars met for top spot in their SHSAA six-man football conference Thursday and it was the host Lions who ran their way to a thrilling 80-63 win to improve to 4-1 on the season.
Running back Jace Jans finished with an astounding nine touchdowns, including seven along the ground, one on a kick-off return, and yet another on a punt return.
"I'd say we played really good," said Jans. "Caronport is a good team. We just found the openings and went for them and the defense had a strong game today. Caronport is good with their passing, but we really stayed on the guys with pass coverage and it worked really good."
"It was a hard-fought long game played all the way to the buzzer by both side," added grade 12 centre and defensive end Rhys Bye. "It was a really good team that we played against there."
Jans finished with 315 yards rushing on 28 carries. Mitch Vaughn rushed five times for 19 yards and scored a 50-yard touchdown through the air. Quarterback Nathan Barsness rushed 12 times for 105 yards and Quintin Bucheler rushed for 16 yards on four carries and scored one touchdown.
On the defensive side, Aidan Slade led the team with nine tackles, while Daylan Radtke added six tackles and also had an interception. Braden Leppa had five tackles and one interception, while Bucheler had five tackles, two knockdowns, and one fumble recovery.
The Lions will conclude the regular season next Friday when they visit the LCBI Bisons, who they defeated 57-43 one week ago.
"They are a tough team," said Bye. "They have a big running back, he's a solid boy, so we will have to put hard pressure on him and shut him down. We played them last week in a hard-fought game when they came to play. They will come to play again next week.