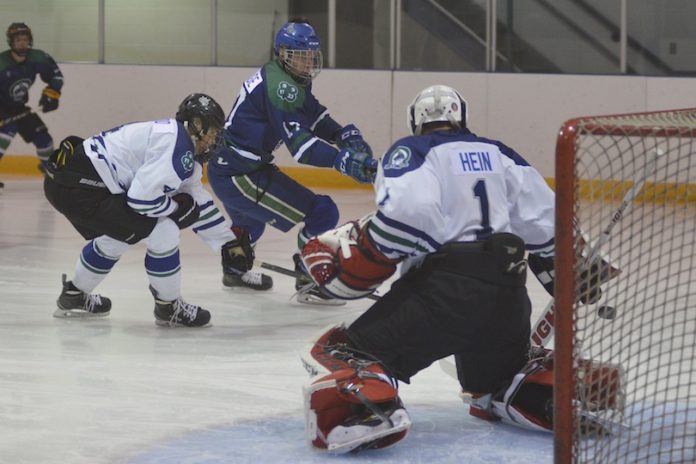 The Swift Current Broncos concluded training camp with many of their best young players on the ice for the annual Blue and White Game on Sunday.
Five different players scored, but it was Christian Riemer's point shot that was the difference in a 3-2 win for Team White. The 17-year-old defenseman was one of three Swift Current Home Hardware Midget AAA Legionnaires to score in the game. Ethan Regnier scored the first goal for Team White midway through the first period when he took advantage of a turnover to tie the game 1-1. Matt Allardyce also scored for Team Blue in the third period when he took an unselfish pass from Logan Barlage to tie the game 2-2 with a shorthanded goal.
Barlage, the fourth overall pick in the 2016 WHL Bantam Draft, had opened the scoring only 22 seconds into regulation with a perfectly placed backhand shot.
Samuel Schofeld scored the only goal in the second period when he tipped home a pass from veteran Riley Stotts for a 2-1 Team White lead.
Ethan Hein and Bailey Brkin each allowed one goal in the win for Team White.
"The team played pretty well actually," said Brkin. "We had great defensive work and the defensive play led to some scoring chances that eventually helped us win the game."
Brkin played the final 30:05 after Hein got the start.
"I was a bit rusty to start as any goalie would be coming off the bench cold. But I felt like as more shots came then the easier it was," said Brkin, a Sherwood Park, AB product.
The Broncos will be in Moose Jaw on Tuesday for a game against the Warriors, the first of five pre-season contests. The Broncos only home pre-season game will be September 10 against the Lethbridge Hurricanes.