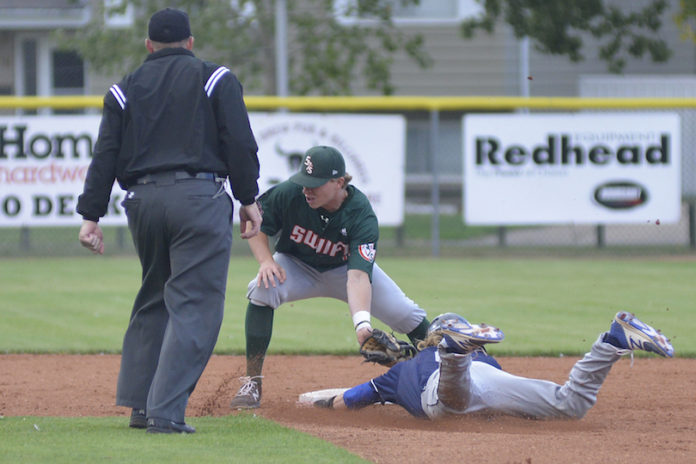 The Swift Current 57's scored twice in the eighth inning to slip past the Weyburn Beavers 6-4 in the fifth and deciding game of the Western Major Baseball League Eastern Division championship series Friday.
The Beavers had won games one and two in Swift Current, before the defending champion 57's won both games in Weyburn on Wednesday and Thursday to help set up a rematch of the 2016 championship series with the Edmonton Prospects.
"These guys deserve a lot of credit," said coach Joe Carnahan as the players were out celebrating with the fans. "They came every day with same approach, played hard, and got the job done."
The game was tied 4-4 in the eighth inning when the 57's loaded the bases and Bodie Cooper walked to bring home Cole Thibodeau before Nick Canas legged out an infield single to score Riley Campbell.
Layne Downing got the win with 1.2 hitless innings in relief before Keil Krumwiede came in for the save.
"When you are down 0-2, as much as you hate to admit it, you kind of down a little bit," conceded Canas, who finished with two hits, one run scored, and one run batted in. "But that just shows how much fight this team has coming back from an 0-2 deficit. Glad I could be a part of this."
The 57's will now face the Edmonton Prospects in the WMBL championship series, beginning Sunday and Monday in Swift Current. The 57's won 22-4 and 4-0 in Edmonton this season after sweeping the Prospects in the championship series last summer.
"We beat them pretty good last time, but this is a brand new series, anything can happen. We are just going to try and do the same things we've been doing, play for each other, and play hard. Hopefully we come out with some wins."
"That's another good team," added Carnahan. "Another very well coached team and it's going to be an absolute battle."