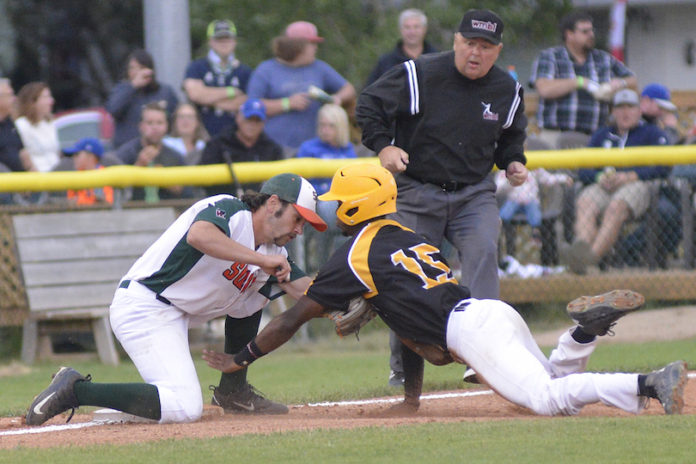 The Swift Current 57's got some late heroics from Bodie Cooper and Mason Brown in a 4-3 walk-off win over the visiting Moose Jaw Miller Express in the opening game of the Western Major Baseball League's Eastern Division best-of-five semi-final series.
The top seeded 57's trailed 3-2 as rain poured down at Mitchell Field in the bottom of the ninth inning before first baseman Bodie Cooper tied the game with one swing when he homered to right field.
Keil Krumwiede worked a walk and then advanced to third on a Riley Campbell single. Catcher Mason Brown brought home the winning run with a perfectly placed bunt between the pitcher and first base to clinch the walk-off win.
"The first baseman was holding on Ri [Riley Campbell] because he is a very good stealer. So pretty much if we bunted to the first baseman and we get a good break at third it is a pretty foolproof play to walk off. That's what we did and how we got it," said Brown, who finished two-for-three with a walk.
"Bodie's home run shifted the whole game, especially late, especially when we needed that run. We had been struggling all game. He comes up, first batter, and hits that home run. That's honestly when we took off, got the momentum on our side," he added.
Layne Downing got the win after a hitless ninth inning. Starter Bobby St. Pierre gave the 57's a chance to win, striking out 11 over eight innings, while allowing six hits, three walks, three runs, only one that was earned.
All three Moose Jaw runs came in the fifth inning when they led off the inning with a home run before an error allowed them to score two unearned runs.
"Bob was solid. It was just one inning, but he did a good job minimizing it, could have been a lot worse. He minimized it to three and let us get in the dugout so we could start swinging so we could get those four runs," said Brown.
The comeback spoiled a dominant outing from Moose Jaw's Grant Westmoreland, who allowed only four hits, three walks, and two runs, one that was earned, over eight innings.
"It was really important," said Brown of the series opening win, the 57's eighth in  a row after winning their final seven games in the regular season. "That means we got one more here and we can end it at their place."
Campbell led the 57's with three hits, including a double, and one run scored. Each team made three errors in the playoff opener, which was played before 511 fans at Mitchell Field.
Game two will be played Wednesday at Mitchell Field at 7:05 p.m.