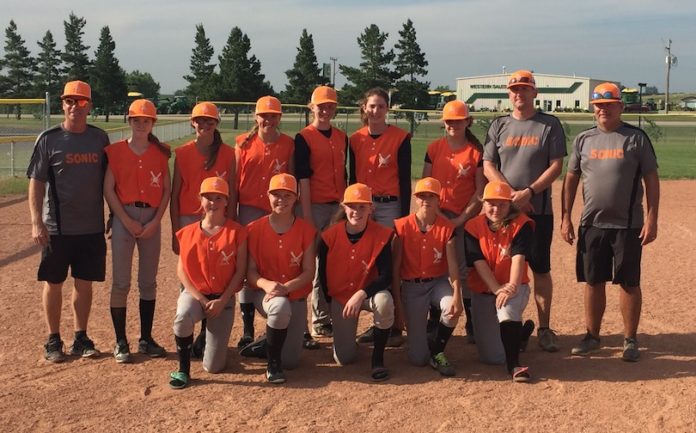 The Swift Current Pee Wee Sonic Girls Softball team went 1-3 at the Pee Wee C Provincial Championships.
The Sonic started the championships with a 17-9 win over Humboldt. Brooklyn Zakulzny, Rio Runcie and Hayley Penley all hit homeruns to lead the Sonic offensively. Kadence Pavely, aided by strong defense, was solid on the mound in relief. Paris Appel was very good at shortstop and was named player of the game for the Sonic.
Saturday was a tough day for the Sonic with three games. The Sonic fell 16-9 to Redvers in a back and forth game. The Sonic were very good on offense but struggled defensively with a very aggressive base running team in the Redvers Red Sox. Zakulzny was player of the game for the Sonic for her strong play at first base.
The Sonic ran into a strong pitcher in game two on Saturday and lost 7-0 to the eventual runner-up Macklin Lakers. Hillary Lacelle was player of the game for the Sonic and she pitched a good game but the Sonic could not muster up any offense.
The final game of the round robin was a must win game against Unity. The Sonic and Unity were tied at 3-3 after four innings but Unity took control over the last three innings with strong pitching and timely hitting, finishing with an 11-3 win. Pavely was named player of the game for the Sonic after pitching four strong innings to start the game.
Tisdale went on to win the championship, defeating Macklin in the final.