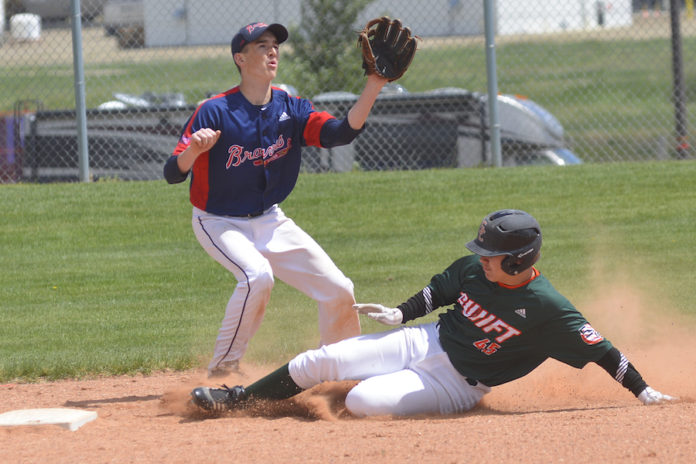 The Swift Current Bantam AAA 57's won when it counted to claim gold at their seven-team home tournament. The 57's lost twice to open the tournament, but won the final three games to claim a home title.
The 57's opened the tournament Saturday morning with a 13-3 loss to the Sask 5 Giants.
They lost a second straight game 10-8 to the Saskatoon Braves that afternoon.
The 57's rebounded that evening with a 13-2 win over the Braves to conclude the day. They next defeated the Saskatoon A's 4-2 in the semi-final and then won a back-and-forth slugfest 13-11 over the Sask 5 Giants in the gold medal game.
The Giants led 3-0 after half an inning, before the 57's responded with five runs in the bottom of the inning to take the lead. The Giants scored the next seven runs to lead 10-5 before the 57's scored eight of the final nine runs.
"We got hits when we needed to," said coach Derek Murdoch. "We had a good start offensively and then we had a couple quick innings where we didn't get much going. When we got down 10-5 we answered right away with three runs and that was really big, kind of got our guys going again. There were some big momentum swings and our guys stayed pretty level through it all. It was good. Ethan [Murdoch] came in and pitched the last four innings or so and shut them down. We got big hits from guys that got big hits for us all weekend."
Murdoch was happy to see his team reach the final during the grueling tournament.
"We kind of set ourselves up to have to win a game last night. We went into that game against the Braves with one of our big arms with Brody Alexandre and we took care of business pretty quickly against the Braves. We just played a really good baseball game against the A's in the semi-final. It was 4-2 and Mac Gross pitched a complete game. He was awesome and we played some good defense and got some hits when we needed them. This is a good team and we think we are a pretty good team. We battled it out and it was a pretty cool Father's Day."
The veteran coach felt his team has been progressing well. They currently lead the Regina AAA Bantam Baseball League with a 13-6 record.
"We have been doing pretty well with league stuff, but this was our first tournament. It was our first chance to see how you do with other teams, including Saskatoon. The games were the first time with real pressure and we responded really well. We had to win last night and we did. Then this morning we played very well and battled through this one."
The Bantam 57's are off to Saskatoon this weekend for another major tournament test.