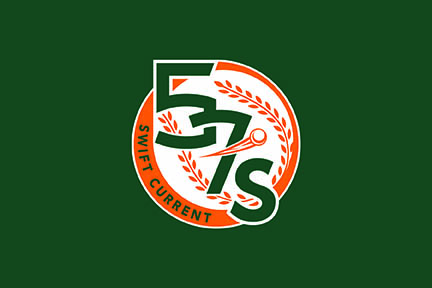 The Swift Current 57's doubled their Saskatchewan Premier AAA Baseball League win total with a two-game sweep of the host Parkland Expos Saturday.
The 57's won the opener 14-7 when they knocked out 12 hits and took advantage of six errors and six walks. They scored seven runs in the second inning, but Parkland responded with a five-run third inning. The 57's scored three runs in the fourth inning to lead 10-5 and added four runs in the seventh inning to secure the win.
Logan Fritzke got the win as he allowed two hits, one walk, and five runs, only three that were earned, while striking out two over three innings. Ayden Annala pitched the final four innings, holding the Expos to three hits, one walk, and two runs while striking out seven.
Friztke finished with a home run, a double, two runs scored, and four runs batted in. Grady Larson singled twice, knocked home two runs, scored a run and stole one base. Nolan Klein finished with three hits, two runs scored one RBI, and a stolen base. Quinn Patenaude was on base with a single and two walks, scored three runs, and knocked one home.
The 57's used a six-run sixth inning to follow up with a 9-3 win. Lefty Ethan Warkentin got the win over 4.1 innings, allowing four hits, two walks, two runs, only one that was earned, while striking out four. Dayne Stenson worked the final 2.2 innings, allowing only one hit and one run while striking out three.
The 57's got a big performance from the heart of the order as Patenaude, Fritzke, Warkentin, and Annala all finished with two RBI. Patenaude had two hits and a walk and scored twice to move his average to .373. Leadoff man Brock Wall also had a two-hit outing and scored once.
The 57's improved to 4-14-1, while Parkland dropped to 1-19. The 57's will host the Regina White Sox on Wednesday at 7 p.m. at Mitchell Field.