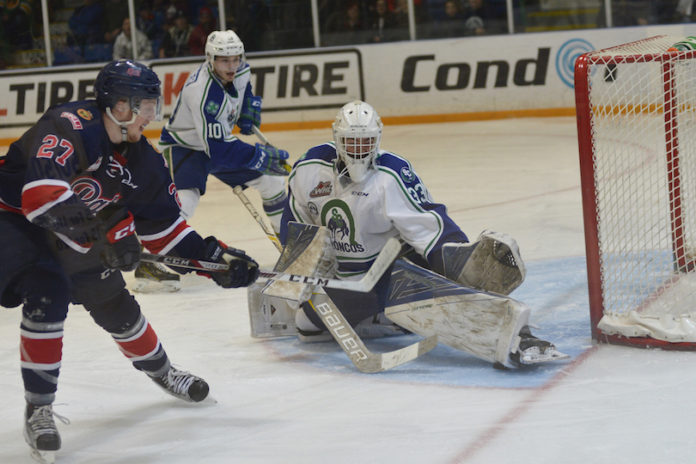 The Swift Current Broncos allowed four unanswered goals as they missed a second chance to eliminate the Regina Pats in the best-of-seven Eastern Eastern Conference semi-final Saturday. The Broncos led 3-1 in the second period but were unable to contain the high-octane Pats in a 5-3 loss to the Western Hockey League regular season champions as the series is now tied 3-3 and headed for a seventh and deciding game.
The two teams engaged in an incredibly physical opening period. Austin Wagner opened the scoring for the Pats when he knocked home a loose puck in the slot, but the Broncos quickly responded with a goal from Artyom Minulin when his shot hit something in front and went up and over Tyler Brown.
The Broncos outshot the Pats 7-6 in the period but the Pats opened the scoring for the fifth time in six games.
The Broncos came out flying in the second period, netting goals from Arthur Miller and Glenn Gawdin 1:58 apart over the opening 2:27. Miller notched his first of the post-season when he took advantage of a horrendous rebound and Gawdin one-timed a puck home from the slot to make it 3-1 Broncos.
The Pats responded with 1:24 remaining in the middle stanza when Josh Mahura batted home a puck in the crease to cut the deficit to 3-2. They quickly tied the game when Wyatt Sloboshan tipped home a point shot with only 25 seconds left on the clock.
The Pats took the lead early in the third period when a dumped in puck hit the stanchion and went in front of the Broncos goal, eventually allowing Wagner to tap home his second goal of the game. Filip Ahl doubled the lead at the 5:28 mark when he snapped a puck home from the top of the face-off circle.
Jordan Papirny made 23 saves on 28 shots to fall to 7–6-0 in the post-season. Tyler Brown earned his seventh win of the playoffs with 34 saves.
Game seven will be Monday in Regina.