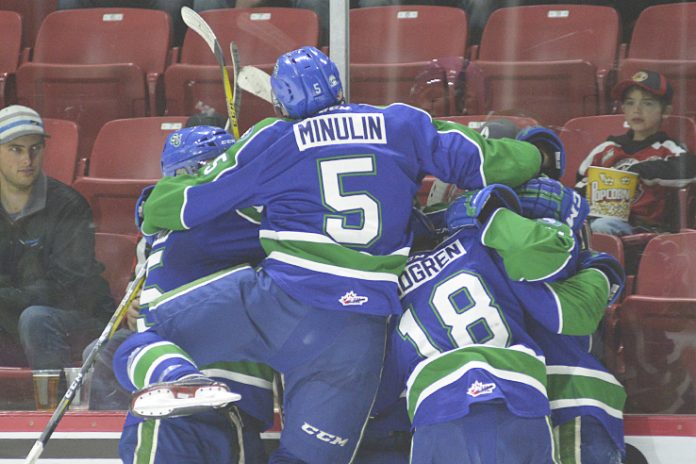 The Swift Current Broncos acquired Jordan Papirny at the Western Hockey League trade deadline for his playoff pedigree and that experience paid off when he led the Broncos to a 2-0 road win over the Moose Jaw Warriors to open the best-of-seven Eastern Conference quarter-final.
Papirny, playing in his 50th playoff game, made 40 saves for his second career post-season shutout.
Tyler Steenbergen followed up on his 51-goal campaign with the game winning goal and Glenn Gawdin scored into an empty net.
The Warriors outshot the Broncos 14-8 during a scoreless opening frame. The Broncos had quality chances from Ryley Lindgren, MacKenzie Wight, and Kaden Elder, while Papirny did well to hold his ground as the Warriors threw a steady stream of pucks into his crease.
Both teams exchanged scoring chances in the second period but it was Steenbergen who fired a puck from the high slot past the glove of Zach Sawchenko for a 1-0 lead midway through the period.
The Warriors pressed hard in the third period with 14 shots but Gawdin scored the lone goal to seal the win.
Zach Sawchenko took the loss with 31 saves on 32 shots.
The game featured only one minor penalty and the Broncos killed off the shorthanded situation.
Game two will be played Saturday in Moose Jaw.