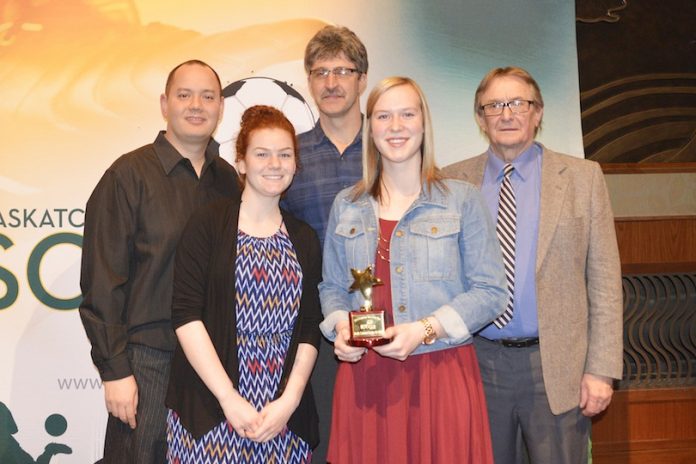 Some standout performances from members of the Swift Current Soccer Association were recognized March 18 at the Saskatchewan Soccer Association Awards Banquet in Swift Current.
Lauryn Hayes was named the 2016 Grassroots Referee of the Year. She was recognized for immersing herself in the game of soccer as a player, coach, and referee. Hayes trains three to four times a week with her team or individually. She also recently added coaching to her resume as an assistant coach with the Swift Current United Soccer Club Under 12 Girls squad, which required completing the Soccer for Life course, as well as Respect in Sport and Making Ethical Decisions.
The SSA recognized Hayes after she completed her Entry Level refereeing course and made great strides to learn about officiating, demonstrating true potential in officiating soccer over the past year.
"I am not surprised that Lauryn would win this award. Everything she does that is soccer related she puts in 100 percent effort," said Dale Perry, SCSA Technical Director.
The Swift Current United Under-18 Girls were named the Grassroots Team of the Year after they won all five tournaments they played in last season with a 16-4-1 record, outscoring their opponents 54-14 along the way. They even won gold at the Saskatoon Eastside Copa Tournament with only 10 players.
They did face adversity during the season when they lost round robin games at three different tournaments only to avenge those losses in the ensuing championship match with shutout performances. The United U18 Girls did not allow a single goal in any of their five championship matches.
They capped their season with a third straight title at the Soccer For Life Provincial Championship in Lloydminster and were also awarded the Fair Play Award, while captain Brooke Vallee was named the tournament's Most Valuable Player.
"I am very proud of the U18 girls. Being the best team at Provincials and winning the Fair Play Award is quite an accomplishment," added Perry.
Many of the players on the team have helped out with player clinics, coach house league and United teams, and others are certified officials for the Swift Current Soccer Association.
The U18 girls were coached by Dale Perry, John Barber, Steven Mah, and Michelle Vallee.
PREMIER SOCCER LEAGUE
Under 14 Boys Golden Boot – Josh Soifer, Queen City United
Under 14 Boys Shut Out Award – Eastside Under 14 Boys
Under 16 Boys Golden Boot – Kelly Lowry, Queen City United
Under 16 Boys Shut Out Award – Queen City United
Under 16 Girls Golden Boot – Olivia Gables, FC Regina
Under 16 Girls Shut Out Award – FC Regina
GRASSROOTS AWARDS
Grassroots Referee of the Year – Lauryn Hayes, Swift Current
Grassroots Team of the Year – Swift Current United Under 18 Girls, Swift Current
Grassroots Coach of the Year – Janelle Layton, Kindersley
Grassroots Athlete of the Year – Nick Fetsch, Yorkton United
TECHNICAL AWARDS
Referee of the Year – Ethan Bent, Saskatoon
Female Youth Player of the Year – Sarah Ochitwa, Saskatoon
Male Youth Player of the Year – Thomas Hasal, Saskatoon
Female Senior Athlete of the Year – Ashley Kambeitz, Saskatoon
Male Senior Athlete of the Year – Brett Levis, Saskatoon
Youth Coach of the Year – Zlatan Dautbegovic, Saskatoon, SSA Centre of Goalkeeping Excellence
Senior Coach of the Year – Jerson Barandica-Hamilton, University of Saskatchewan Huskies Women's Team
Youth Team of the Year – Eastside Under 14 Boys, Saskatoon
Senior Team of the Year – University of Saskatchewan Huskies Women's Team
Volunteer of the Year – Darin Wildman, Kindersley
David Newsham Award Recipient – Mark Lord, Saskatoon