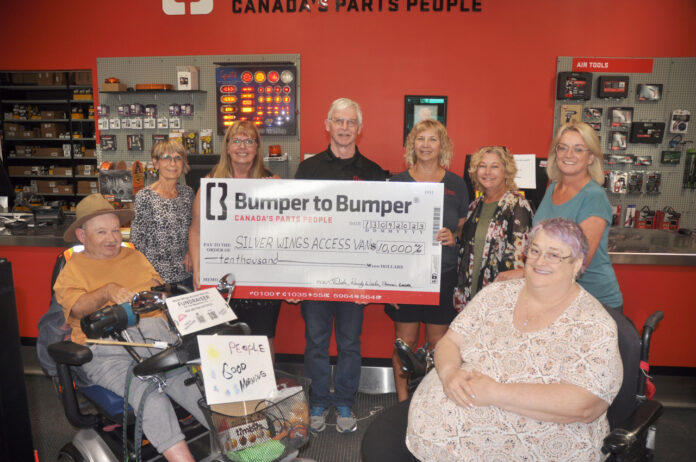 By Matthew Liebenberg
A fundraising campaign for a wheelchair accessible vehicle for long-term care residents at The Meadows has reached its target after a generous donation by a Swift Current business.
Silver Wings Access Van Inc (SWAVI) has been inching closer to the $140,000 goal and it became a reality with a $10,000 donation from Bumper to Bumper Great West Auto Electric.
A formal cheque presentation to celebrate the milestone took place on Sept. 13, but the donation made it possible to already order the van a few days earlier.
"It is awesome," SWAVI Co-chair Tracey Schlamp said. "Very excited. All of our residents and committee members, everybody that's worked so hard was just floored, knowing that this business has supported us in the past and now came through with this huge donation. We're so grateful."
She noted that Bumper to Bumper Great West Auto Electric reached out to SWAVI with an enquiry about the amount required to get the van ordered.
"It was $8,600," she recalled. "That's where we were at. And they said how about we top you up to $10,000."
The planning of the campaign began last year and actual fundraising has been taking place since around May 2023.
"The fact that we're already here because of this donation of $10,000 from Bumper to Bumper and Great West Auto is just icing on the cake that we can get the van ordered," she said. "It will be coming to our doorstep. It's going to take about four to six months for us to receive it, because it is all customized, but we're very excited and can't wait to start driving folks around."
Leanne Tuntland-Wiebe, the co-owner and office manager at Bumper to Bumper Great West Auto Electric, said the company is happy to be in the position to make this donation, because they have been thinking about doing something special to help SWAVI.
"It hasn't taken them long to raise this much money at all," she mentioned. "This has been super. So when they were that close, I thought that's what we want to do. We want to push them over. We want them to be able to order that van."
She discussed her idea with the other co-owners of the business and they agreed this was the way to support SWAVI.
"We really wanted to be the ones to push it over and make sure that they got to order it, rather than having to wait another week, two weeks, or a month," she said. "We wanted to be involved. We're very community-minded. This is a community-minded project."
Two residents from The Meadows attended the cheque presentation. They are looking forward to the arrival of the vehicle.
Thomas Stroud has been actively canvassing for the fundraising campaign and encouraging people to donate. He installed a sign on the front of his motorized wheelchair about the fundraiser with a clear note indicating that people should ask him for more details about it. The van will certainly help him to get to different places around the city.
"I go all over, so you pick it," he said. "Downtown, south side, ball games, hockey games, whatever."
Anita Penner raised $1,400 for SWAVI by making and selling personalized keychains during the campaign.
"I'm going to be the first one on the van," she said. "I'm going to go through Swift Current and we're going to honk the horn and make sure everybody sees we got a brand new van. Yeah, I'm excited!"
Schlamp appreciates the support of the community that helped them to achieve their fundraising goal. SWAVI members and volunteers carried out numerous activities to raise funds, varying from a concert by Elvis tribute artist Rory Allen to raffles and 50/50 ticket sales. They set up a table at a variety of locations to create awareness and receive donations. There was also a lot of support from the business community and other organizations.
"We've had wonderful donations from the community, everything from a dollar up to $40,000 from the Kinsmen TeleMiracle and $25,000 from Innovation Credit Union," she said.
There will still be fundraising in the future for expenses to operate the van. SWAVI is a registered, non-profit corporation that was established through the efforts of a group of family members, residents and caregivers to raise funds for a van specifically designed for the needs of The Meadows residents. It will therefore be able to accommodate different wheelchair sizes and it will be available for use whenever residents and their families require it.
"We have so many folks that just want to go out," she said. "They want to live their lives, right? Don't we all? … So having this access to our community once we get the van is going to give a lot of people their life back."