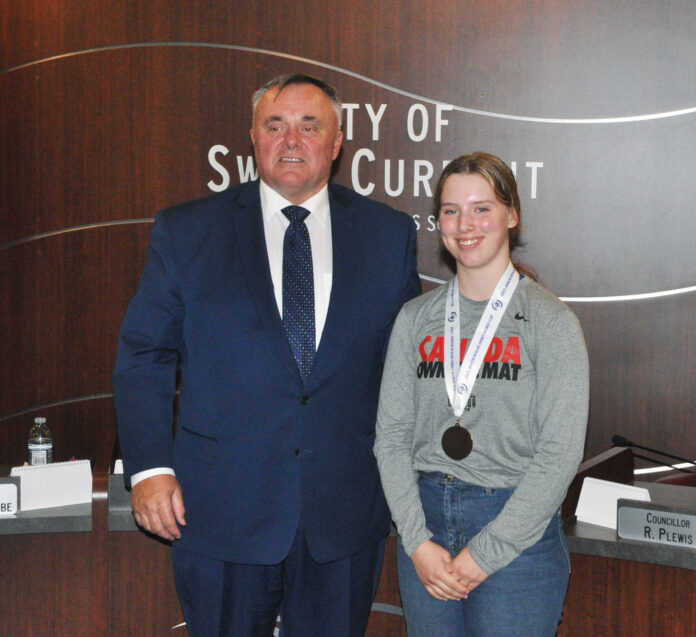 By Matthew Liebenberg
For the Southwest Booster
The achievements of Swift Current roller derby player Ella Toles received recognition at a City council meeting on Aug. 21, when she shared her experiences as a member of Canada's bronze medal winning team at the recent Junior Roller Derby World Cup.
Toles, whose roller derby name is Miss Koozie, was a member of Team Canada's under 18 female team at the Junior Roller Derby World Cup held in Valence, France, from July 28-30.
She was one of 35 players representing Canada in two teams at the event. The female division team won bronze and the mixed gender team in the open division finished fourth.
"It was just a really amazing experience," she said. "I also want to say huge thank you to everyone who made donations to help me get to France and also just really my Redneck Betties, our home league here, who have raised me since my mom joined when I was five. Every woman who has stepped into that team and put on a pair of roller skates helped me get to the position that I am today."
Roller derby has been an integral part of her life. Her mother played for the Redneck Betties and her father coached the team for many years. Toles began playing this full-contact sport when she was nine years old.
"So it was definitely a culmination of a lot of years and definitely a lot of people helping me get to where I was," she said about being selected to play for Team Canada.
Her journey to the Junior Roller Derby World Cup started last October when she went to the tryouts for Team Canada in Red Deer, Alberta.
"There was another one in Toronto area and I think overall about 100 kids tried out, and they ended up picking kids to form two teams," she said.
It was an exciting moment for her when the team members were announced in early December and her name was on the list.
"So after that, we had about monthly Zoom meetings where we all got to meet each other," she recalled. "Some of these people I've known since I was 10. Some people I had only seen them at that point on that little Zoom call, but it was really amazing how quickly we all became a family."
The players came together for two practices in preparation for the World Cup. The first one took place in Toronto in April and then they gathered again in Calgary in May for the final practice before leaving for France.
Her team played against competitors from the United States, Sweden, Denmark, Great Britain and Team World, which was composed of players from different countries that could not field their own teams for the event. Her goal upon arriving in France was to keep her focus on the games ahead.
"In that moment I knew stepping off that plane that I would be really tired and I tried to organize my sleep schedule as quickly as possible, because that is honestly a big thing determining how I play and how I feel emotionally," she said. "I actually found the food they had there was really good and the hotel we're staying at was really wonderful about helping us eat. So I found it actually quite easy to physically prepare for all of that."
Her team played well in the initial round robin with big wins against Denmark, Great Britain and Team World, but losses against the United States and Sweden.
She noted that the loss against Sweden was a bit of a surprise and while the game against the United States was expected to be a challenging one, there was also a lot of respect between the players.
"In that sense it was actually really amazing playing against them, because I did find I had some success against America," she said. "And it just felt really good to see these people that I would sit home on my screen. I'd watch them play in their championships down in the U.S. and be like that's what I want to do or I aspire to be like that person. So actually getting to meet them was really amazing."
Team Canada's big game in the next round took place against Sweden to determine which team will play in the final. Canada lost a tough game, but it was a memorable experience for Toles.
"I've never experienced anything quite like it," she said. "It really was an out-of-body experience. We were very close at the end."
She ended up being the jammer for her team in the final jam and while Sweden had the edge, it was still a big moment for her.
"It was just amazing, just skating around that pack, hearing my family cheer for me and all my friends' parents cheer for me and just people who love the sport cheer for me," she recalled. "I knew we weren't going to win, but I was just really enjoying it."
She brought along her bronze medal to the council meeting, which she received after her team won convincingly against Team World with a score of 340-67 in their final game at the World Cup.
"And then after that, it was just really lovely to watch the gold medal games and just watch the highest level of roller derby I've ever seen," she said.