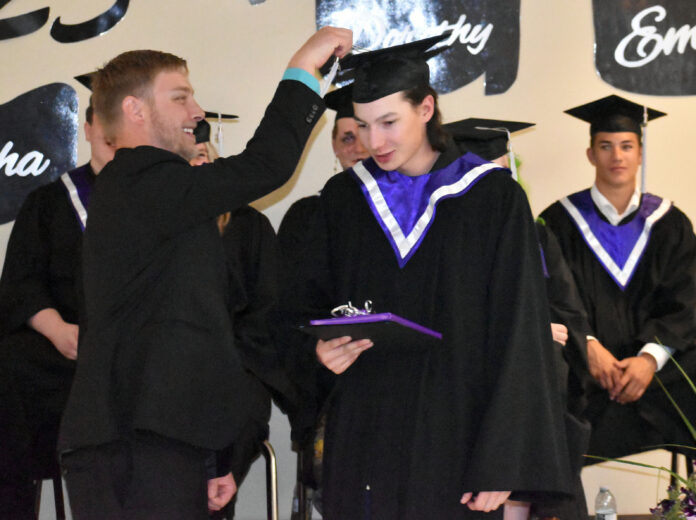 By Matthew Liebenberg
The class of 2023 celebrated an important milestone with family and friends at the Maverick School graduation ceremony, June 15.
The banquet and program took place in the InnovationPlex auditorium. There were speeches, the grand march of graduates, awards and bursaries presentations, the presentation of diplomas, and the principal's address to graduates.
There are 11 students in this year's graduating class. The formal portion of the evening's program started with greetings from Chinook School Division Superintendent of Schools Angela Hermanson. She congratulated graduates on this important accomplishment.
"All of your grit, determination, hard work and your ability to overcome challenges has paid off and will continue to in the future," she said. "As a division, we are proud of all of your efforts and your commitment to getting your education."
She asked them to reflect on their time at Maverick School and all the individuals who supported them on their journey, including their family, friends and school staff.
"Any one of us, whenever we enter Maverick School, realize what a special place it is," she said. "It's evident when we attend your events, what a heart Maverick has and the team who challenge you to become the best that you can be and draw on your unique talents and abilities."
The class of 2023 graduation theme was based on the quotation "It takes courage to grow up and become who you really are" by American poet E.E. Cummings. Hermanson wished graduates all the best as they embrace their theme.
"We encourage you to take advantage of every opportunity that life has to offer," she said. "We hope that you go on to do remarkable and memorable things, and that you receive many opportunities to match up with your dreams."
The graduates entered the auditorium for their grand march to the song Endless Possibility from the video game Sonic Unleashed.
Aradyn Norman, who achieved the highest academic average from last year's graduating class, delivered the alumni address. She told graduates that they might feel stuck as this chapter in their life comes to an end, but new doors will open for them.
She noted that things are not always going to work out for them, they are not always going to be the best at things and they might even fail, but that is OK.
"You are allowed to make mistakes, and you don't always have to be happy about the ones that you make, but learn from those mistakes and make the most out of what you got from it," she said. "The main thing I want everyone to take away from this, graduating or not, is you don't have to be perfect."
Maverick School Principal Jayne Nicholson reflected on the graduation theme and the E.E. Cummings quote in her address to the graduates.
"He believed that a great deal of courage was required to mature to the person you really are," she said. "Courage to overcome societal pressure and pressure from others who may expect you to be someone other than the person you are meant to be. The truth is, but in the short term, it is much easier to succumb to this pressure and become the person that others expect you to be. But you must consider the long-term cost to you as an individual."
She urged students to live authentically, because they will be happier, more optimistic and more fulfilled.
"These are people who spread good energy," she noted. "A truly happy person wants to extend that happiness to others and create a better world for all. This is something that I am sure you will all do in your own unique ways."
She congratulated the graduates and thanked them for choosing Maverick School to be part of their journey.
"At Maverick, we welcome diversity and celebrate individuality," she said. "I believe that part of the reason you are on the stage tonight is because at Maverick you found a place where you could be you."
The class of 2023 graduates are Nathan Blyth, Ryan Coomber, Hunter Flaterud, Emily Haddock, Dorothy Johnson, Nicholas Marshall, Illiana Squirrel, Keisha Thon, Jaden Toye, Kei Wall and Shaun Warder.
The following awards and bursaries were presented to students during the graduation ceremony:
Governor General's bronze medallion for academic achievement – Aradyn Norman (2022 graduate).
Ron Thurbide memorial bursary – Emily Haddock.
Rempel Family award series: Visual art award – Kai Silverwood; Coffeehouse courage award – Jazmine Pope; Outdoor education award – Brianna Pleasance.
Leonard Family Control Theory award – Emily Haddock.
Maverick School awards: Maverick School Spirit award – Illiana Squirrel; Maverick School Writers' Guild award – Leland Flood; Maverick School Resilience award – Illiana Squirrel.
Bryan Tallon Memorial award series: Apprenticeship and trades award – Shaun Warder; Perseverance award – Dorothy Johnson; Personal wellness award – Jaden Toye; Women in trades award – Kei Wall.