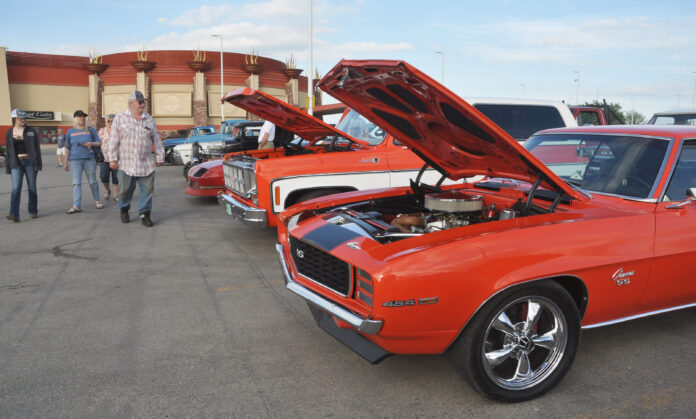 By Matthew Liebenberg
A group of auto enthusiasts in Swift Current is going back to basics with a weekly event to bring people together around their common interest in vehicles.
Tail Light Tuesdays has quickly grown into a popular event that draws a variety of vehicle owners and anyone who wants to check out what might be on display in the parking lot at the Living Sky Casino.
It was started by a new group known as the Rogue Cruisers. The event happens every Tuesday night throughout the summer from 6:30 p.m. to dusk and the only requirement to participate is an interest in vehicles.
"Our whole idea behind this was if you're proud of it and you want to show it off, bring it out, whether it's a brand-new half ton or a 100-year-old vehicle," Rogue Cruisers spokesperson Cory Schultz said. "It doesn't matter to us. If you're proud of it and you want to show it off, bring it out."
A local non-profit organization will benefit each month from donations accepted at the event. The Swift Current SPCA was the non-profit for May and will also be the beneficiary for June.
"We've reached out on Facebook and stuff looking for local charities to help out," he explained. "SPCA came on with us and so for the month of May we helped them out. They said can we do it in June again and we said by all means. As long as we can help somebody out, it's good. We need nothing. We just want a place to be and hang out and have some fun."
A total of $1,855 was raised for the Swift Current SPCA during May as well as a large amount of donated items needed by the animal shelter.
Anyone who donates to the selected charity is eligible to enter the draw for a special prize pack at the end of the month. Living Sky Casino sponsored a gift pack for the inaugural draw at the end of May and a National Trailer Parts towing package is the draw prize for June.
Rogue Cruisers also supported another non-profit organization during May with a Cruisin' with Mom event on Mother's Day. Participants cruised in their vehicles on a route that took them past retirement and care homes in the city. Donations were accepted for the Cancer Foundation of Saskatchewan and raised a total of $400.
The number of vehicles on display at Tail Light Tuesdays during May varied from 50 to 100, depending on the weather. Schultz said it was exciting to see the positive response to this initiative.
"It's taken off tenfold from what we really anticipated," he said. "It was just amazing, the response from the public and the people coming out. It was just unreal. Really exciting."
It all started out as a simple idea early in 2023 when some local auto enthusiasts began talking about what they want to do when winter is gone.
"They said let's get back to doing simple stuff where we're hanging out in the parking lot, visiting with your friends and telling stories, talking about things you've done or you're going to do to the car and the events you're going to and promote other people's events," he recalled. "And it has really worked."
They began to look for a venue for a weekly mini vehicle show and ended up partnering with the Living Sky Casino.
"They have been great for us," he said. "They provide us with this end of the parking lot so that there's a place for us to use the washrooms and stuff inside. It's a perfect spot. You can see us from the highway, you can see us from the road, you can get in and out, you can come for five minutes, you can come for an hour, you can come for two hours. It's totally up to you."
There is no charge to participate in the event, there are no formal membership requirements to join the Rogue Cruisers and it is not a formal car club.
"What we all wanted was an informal group to come and have some fun," he explained. "You don't have to have a lot of what I'll call rules like other clubs or things like that. We just wanted a commonality of the cars. That's what we wanted and to be able to promote events and promote doing car stuff with car people."
The group provides a way for participants to go to other car shows, cruise nights, day or weekend trips and social outings.
Rogue Cruisers participated in several recent events in Swift Current. They displayed their vehicles at Picnic in the Park on June 4, joined a cruise event hosted by the Eliminators Car Club on June 8 and put on a small show and shine at the Swift Current Ride for Dad event on June 10.
Rogue Cruisers also attended a car show in Regina as a group and some went to a regular event hosted by the Excellerators Car Club in Shaunavon.
Tail Light Tuesdays have attracted car enthusiasts from areas beyond Swift Current, which added to the variety of vehicles on display each week.
""We've had people coming from Shaunavon, Gull Lake and surrounding area," he said. "There's people from the Kyle and White Bear area. So it's been all over the place that people have been coming out, just getting their cars out, stretching their legs and seeing what they can do."
Anyone is welcome to bring their vehicle every Tuesday evening to the Living Sky Casino parking lot and to drop in to see what kind of vehicles there might be. Tail Light Tuesdays will continue throughout the summer and even a bit longer.
"We'll go until the end of September, for sure," he said. "So come out, show off your stuff. If the weather holds after September, I guess we'll talk to the guys at the casino to see what we can do."