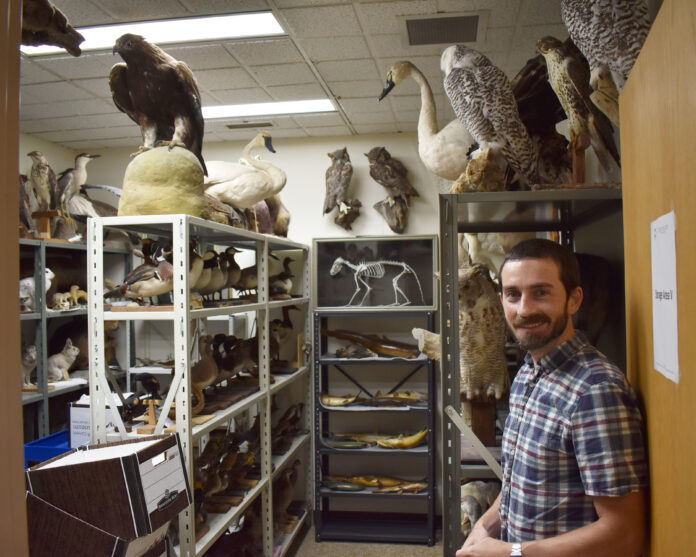 By Matthew Liebenberg
For the Southwest Booster
The Swift Current Museum celebrated International Museum Day on May 18 by providing visitors a glimpse of the work happening behind the scenes to catalogue and store items in the permanent collection.
Museum Collections Officer William Shepherd provided a guided tour of the archives in the morning and afternoon.
He took tour participants down a flight of stairs into the basement of the building, which is usually off-limits to visitors.
The first stop was at a display case at the bottom of the stairs. It contains various items, including a uniform, related to the history of a former Swift Current military regiment, the 8th Reconnaissance Regiment (14th Canadian Hussars).
"There is a sign upstairs saying that if people want to see it, they can speak to a staff member to come down," he noted.
The museum has been at its current location since 2007. The building was previously used as a credit union office and there are several vault-like spaces in the basement. There was a sense of anticipation when Shepherd unlocked different doors during the tour to reveal the content inside.
The first door unlocked a room that were previously used for safe deposit boxes. It is now used to store paper items that are part of the museum's permanent collection. It includes the records of various clubs and other groups, personal records and some old City of Swift Current records.
These paper records are available for research purposes. An upstairs room, which was used as a vault to store cash, provides space for members of the public to do research.
"If people want to come and do research and we have something they want to look at, we'll typically bring it upstairs," he said. "So they can have the space to themselves and there's also more space to spread out in the upstairs vault as well as access to some other resources."
Those additional resources in the upstairs vault include old newspapers, telephone and business directories, obituaries and various other documents and publications.
The type of paper items added to the museum's collection will vary and it depends on what people might have in their possession.
"Somebody's parent had a business and they'll bring it in or it could be when a club closes down, when they'll bring their operating records," he said. "It just really depends on what people bring in. We're always adding and then we have to be kind of be creative on storage to get everything in."
The next stop on the downstairs tour was Shepherd's office, where new donations are processed. A large desktop magnifying glass with a lamp and a microscope are attached to his desk to assist him with the analysis of items. The microscope can be very handy with extremely detailed work.
"When you need to see some detail and then if you really need to get in there, if I'm working on something or conserving something and fixing some issues, I'll probably use it to see greater detail," he said. "Or I can take documentation shots. I can attach a camera to it and I could take a really macro shot. A lot of times it's handy for photographs when you're trying to maybe fix a tear or some other small detail that you really need to get perfect."
The frequency of item donations to the museum will vary a lot and they can come in all shapes and sizes.
"There might not be some for a bit and then there'll be four people in a day come in," he said. "It really varies. I would say we probably average one to two a week. It could be something small, it could be something large, boxes of things. It's really all over the place."
A recently received item in his office is an accordion that belonged to a member of the former Swift Current Old Time Fiddlers, Alistair "Bud" McEwan. It just so happened that McEwan attended the afternoon tour of the museum archives.
He went on a number of tours with the band and the accordion case is covered in a variety of stickers from those trips.
"That's some of the places I travelled to when I was playing," he said.
He recalled buying the accordion for $600 in 1963. He decided to donate it to the museum after recently moving to a retirement residence in Swift Current.
"I didn't have room for something like this and I thought they might look after it," he said. "I've given them some other Old Time Fiddlers stuff. So I thought why not the accordion."
His previous donations to the museum include an old curling jacket from 1940, an Old Time Fiddlers jacket as well as his Golden Oldies hockey sweater that he worn as a member of a Swift Current old timers hockey team.
Those items are stored in a room just behind Shepherd's desk. It is filled with a variety of old clothing items that were donated to the museum over the years. There are dresses from various decades as well as military uniforms. The oldest clothing items in the collection will be around 100 years old.
A key challenge with all the items in the museum collection is the ensure that storage conditions are suitable to their preservation.
"Being an older building that wasn't purpose built, we're not able to control humidity as well, but we do have fairly good control over temperature and we do try to house things in rooms or with like items that will help their long-term preservation," he said. "There are pest traps throughout. Part of it is to catch some pests, but also to monitor. So if we find something we keep an eye out, because maybe there's something starting or maybe it's an accidental visitor."
The tour continued to a room where all the taxidermy items in the museum's collection are stored. There are a large variety of bird species as well as mammals and fish.
There are 301 specimens in the museum's taxidermy collection, including a full-size black bear and a wolf. These items are used for educational purposes and will be taken upstairs for small exhibits during activities related to school group visits. There are not frequent additions to the museum's taxidermy collection.
"We tend not to accept much taxidermy, just because we have a lot of local species already," he said. "So if there was a particular significance to a particular specimen, we'd examine it. But since we have many local specimens already, we'll take a harder look at ones that come in."
The final stop of the tour was a large room used as the main storage area for artifacts or three-dimensional items in the museum collection. It varies from prehistoric items such as large pieces of petrified wood and First Nations tools to household items, old military items and trophies from various old clubs in the city.
This room contains about 17,500 items. The total museum collection contains about 30,000 items, including photographs. The museum is unable to accept all donations and it will follow various guidelines to determine if an item is suitable for the collection.
"We do have some criteria," he said. "It has to be somewhat significant to the history of Swift Current. Is it a good representation of something versus is there something else we have as a better representation. Condition factors in."
His advice to anyone who is considering a donation to the museum is to look at its relevance in relation to the history of the area.
"We definitely like the things that have a personal story that can be tied to them or a history," he said. "If it's something that's mass produced that they just bought that doesn't have a story, we would be potentially interested, but we definitely look more for not necessarily unique items, but a unique story or even just a personal story or history behind them."
Details on how to make a donation to the museum and the criteria used to consider items are available on the museum's website at www.swiftcurrent.ca/museum