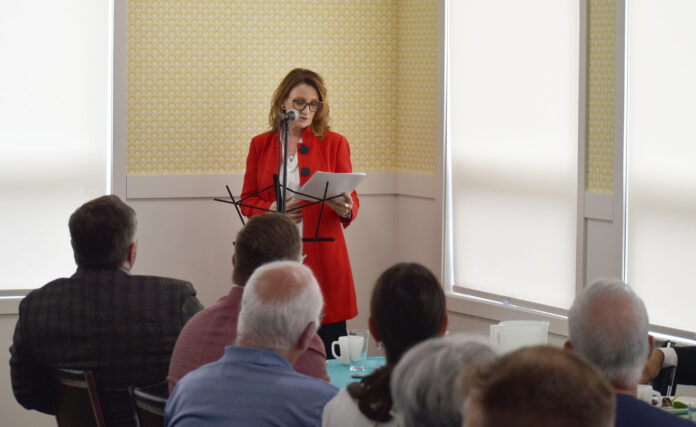 By Matthew Liebenberg
For the Southwest Booster
Author and mental health advocate Joy Pavelich shared a message of hope about dealing with the trauma of losing a loved one to suicide during a presentation in Swift Current.
She was the guest speaker at the Mayor's Luncheon, a fundraising event hosted by the Canadian Mental Health Association (CMHA) Swift Current branch, May 8.
Her life changed forever on Aug. 4, 2013 when her 20-year-old son Eric Schmit took his own life on the family farm near Kenaston.
"Someone once described trauma to me as a one-way door that you walk through and you never go back, and it's true," she said.
She spoke about the devastating impact of her son's death on the family, including her other two sons Justin and Conner, and her own struggles to find a way forward. She wrote the book Chasing my Son across Heaven as part of this process.
"I had to do it to honour him," she said. "It was a sense that I was really honouring my son by telling his story and I didn't want to hide his death. I understand there's many reasons why people don't disclose, but it was my way of just saying he mattered."
She felt the book, which was published in 2020, might help parents who lost a child to suicide, because there are not many publications available on this topic. The various responses to the book has surprised her, because it is resonating with others too.
"I get a lot of messages from people and loss is loss," she said. "Most of them are about loss and suicide and mental illness, but there's also other people who find whatever message in there about taking loss and just finding your way through it."
She received a lot of support along her own journey of learning to live with her loss. She therefore feels that speaking about her experience is a way of giving back.
"I had to share," she said. "I felt like I was compelled to. There's a huge validation that comes, this sense of gratitude that there's meaning in this. That going through something like this, if you can help somebody else who does attach meaning to it. That's where I find that meaning."
It was not an easy process to find a way to live again after her son's death. She dealt with depression, anxiety and suicidal thoughts, but she made a decision to be there for her other two sons.
"The pain inside wasn't almost too great to bear, it was too great to bear, but as much as I had this one big reason to go, I had two bigger reasons to stay," she said.
She referred to the importance of community when someone is dealing with loss. The support provided by others made a real difference during her own struggle to move forward.
"Unconditional love in my life held my hand while I figured that piece out," she said. "Tragedy doesn't pick favourites. So when it strikes, whatever that looks like, you as a bystander will most likely feel lost and helpless. The truth is the only thing you need to do is just show up, walk with us, the person who now has to figure out who we are. Love us as we rebuild our lives."
She referred to the importance of sharing stories as a tool to deal with the impact of trauma. She did research about the use of storytelling for this purpose during her master's degree in professional communications.
She studied the use of narrative completion by men who suffered sexual abuse to cope with their trauma. The knowledge from her own research was helpful when she had to deal with the death of her son.
"Trauma is stored as fractured images throughout your brain with intense emotion attached, whereas a healthy memory is fluid," she explained. "That's why you have something you don't remember. Your memory changes based on new information coming in all the time. Trauma is not like that, because it's embedded as this image. … This shattered image is actually a trigger when the brain pulls something from out of this location, and all of that pain and confusion returns that's attached to that image."
These shattered images in a person's brain can cause mental health and addiction challenges when they are not reconciled.
"The earlier one is able to piece their story together, the better their outcome," she said. "Piecing it together helps a person transition into the next stage, which is narrative completion, and that's taking these stories and weaving them together. What is happening at that point is you're releasing incongruencies and in doing so you're sense making."
Pavelich mentioned that she intentionally does not talk about healing, because in reality a person is learning to live with trauma.
"Trauma isn't something you heal from," she said. "In research terms, what is happening is you incorporate it into your life story as part of a comprehensive narrative and you rebuild."
Her presentation was the first Mayor's Luncheon since 2019 due to the COVID-19 pandemic. It previously took place in a large venue, but this was a smaller event held in CMHA Swift Current's new building.
"It's kind of a re-imagined Mayor's Luncheon after taking the hiatus due to the pandemic," CMHA Swift Current Executive Director Todd Vallee said. "We wanted to see what it would be like to host it at our space and we also wanted to take the temperature of the community and see what interest there is for an event such as this again."
He felt it was a successful event with an important message by a great speaker. Funds raised will be used to support program activities offered by CMHA Swift Current, which include social, peer support, vocational and meal programs.
"While we don't necessarily have the funds from this event earmarked for one of those programs, much of what we pay for that programming has gone up in price," he said.
The future format of the Mayor's Luncheon and whether it will take place at the CMHA building or at another venue will be considered by the organization's board and fundraising committee.
"We do want to dissect this fairly quickly to see where we can improve upon it, because we do feel like it's an important fundraiser for our organization," he said. "And we feel like it's very important that the community have the opportunity to hear the stories of some of the folks that have been brought in the past and this year with Joy as well."