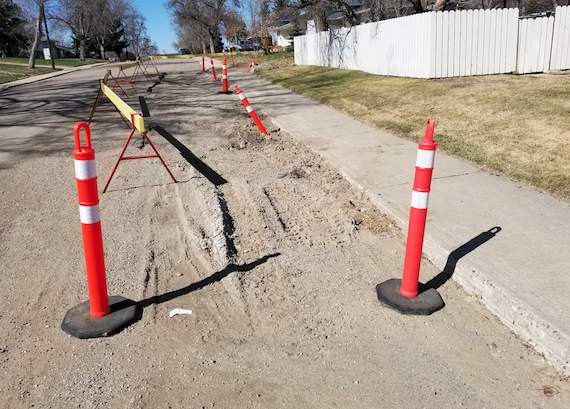 By Matthew Liebenberg
For the Southwest Booster
The City of Swift Current is moving ahead with a project to replace ageing water and sanitary infrastructure on an entire street block.
Council members approved the 10th Avenue NE infrastructure replacement contract during a special council meeting, April 26.
Local contractor Knudsen Excavating Ltd. submitted the only bid of $724,433.92 (10 per cent contingency and PST included, GST excluded).
The total cost of the project, which was approved in the City's capital budget, will be over $1.16 million. Other expenses will be for material testing as well as for sidewalk replacement and asphalt road resurfacing.
City General Manager of Infrastructure and Operations Mitch Minken said the 800 block of 10th Avenue NE was selected for several reasons.
"Throughout the last several years, the 65-year-old underground infrastructure has been prone to water main breaks, resulting in frequent maintenance in the area," he mentioned. "A camera inspection of the sanitary main has also confirmed that sections of the network have root intrusion issues."
There is a lot of infrastructure of a similar age and older in the city. Its rate of deterioration will depend on local conditions.
"It's kind of dependent on soil conditions and the like," he said. "Some of this infrastructure can last up to 100 years, as long as you got stable soil conditions and all the rest of it. This particular block has been a real challenge for us. We've had numerous breaks in this block and we've been in there to fix them. So that's really the driver, Sometimes you get places where you just can't repair it and the pipe is deteriorated to a point where it's got to be replaced or it's more cost effective to replace it than repair it."
The most recent water main break on the 800 block of 10th Avenue NE occurred on March 19. The length of this street block is about 250 metres.
"It's a little bit of an extra long block," he said. "So the whole block is being done of the main and then 18 individual house services are being looked at."
The intention is to replace the water and sanitary mains as well as the City service to the property line of each house on the street.
"During the construction of the project, there is also an opportunity for homeowners to replace the portion of the services from property line to their homes," he said.
Street residents face the same dilemma of old infrastructure. The water service on that street block from their property lines into their homes uses copper pipes.
"Copper is a good material, but it also deteriorates over time," he said.
Potentially more problematic is the old sewer service from the main line to each house, which consists of tar paper pipes.
"There was a time in the fifties, they actually used a paper tube," he said. "It was tarred and that was what they used for the sewer services from the homes to the main. Those are ones that if you get some shifting soil, they don't have a lot of structure to them, as you can imagine. … They tend to collapse and go into an egg shape and get soft, and roots can penetrate through them."
The City will provide residents on this street with details about the opportunity to upgrade their services at the same time. Those who decide to proceed will be invoiced by the contractor for the work done. Details must still be worked out with the contractor, but Minken felt there might be a potential benefit for homeowners.
"That is certainly our hope," he said. "That's what we're working towards, because if the contractor is there, mobilized, and the sidewalks are gone and it's an open area to work in, it should be an opportune time for the contractor to give the homeowner the best price that they could experience."
The street block's proximity to O.M. Irwin School means that the project will only be carried out during the school break in July and August.
Paving and concrete contract for 2023:
Council awarded the 2023 paving and concrete contract to United Paving Ltd. of Swift Current at a cost of $1,858,705.64 (five per cent contingency and PST included, GST excluded).
It includes the annual paving and concrete rehabilitation work as well as surface work from other capital projects.
The paved street rehabilitation will be done at seven locations over a total distance of 1.4 kilometres. Sidewalk repairs will be done on both sides of a single street block to replace a total of 300 metres.
"Most of our focus is on roadways these days," Minken said. "Sidewalks we're kind of maintaining, and trip hazards and broken stuff we'll fix sections. We're not doing major full block replacements at this time, but both sides of this particular block are disintegrated to a point where they have to be replaced."
A section of Marston Street on the city's south side, which is unpaved, is included under this contract. This road leads to the Windscape Kite Festival site and its inclusion resulted in a discussion during the council meeting about the criteria used to select gravel roads within the city boundary for paving.
Councillor Tom Christiansen felt a gravel road such as Sidney Street West in a commercial area is a higher priority for paving and he received calls about this road. Mayor Al Bridal said he received calls and e-mails from residents about dust on Marston Street.
City Manager of Engineering Services Jolene Peters explained that the base structure of a gravel road needs to be improved before it can be paved. Cost estimates are done of the work required for the different gravel roads and Marston Street was therefore selected.
Christiansen requested City administration to provide council with a complete list of gravel roads in the city with details about the long-term plan for each road.
Asphalt maintenance contract for 2023:
The asphalt maintenance contract was approved during the special council meeting, April 26. Council members awarded the work to United Paving Ltd. of Swift Current at a total cost of $400,000 (PST included, GST excluded).
The value of this year's contract is similar to the cost of asphalt maintenance in recent years to repair potholes and other damage to street surfaces caused by the freeze-thaw cycle in winter and spring.
United Paving Ltd. has made a commitment to keep an asphalt plant in operation in Swift Current during this construction season, which will be a benefit for road repair work. This means that hot mix asphalt will be available the entire time.
Swift Current residents can report potholes to the City by sending an e-mail to eng@swiftcurrent.ca or by calling the City's 24-hour hotline at 306-778-1625. They can also fill out a form on the City website (use the search term "pothole" on the website).