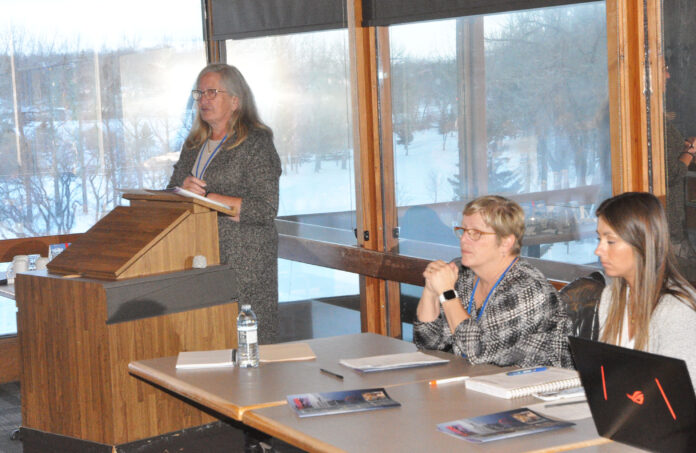 By Matthew Liebenberg
For the Southwest Booster
A successful year of fundraising events was a clear highlight for the Dr. Noble Irwin Regional Healthcare Foundation during 2022, but the non-profit organization also experienced a loss on investments due to unstable financial markets.
Details about the Healthcare Foundation's activities during the past year were provided during the annual general meeting, April 20.
"It was a very successful year," Board Chair Helen Arnold said afterwards. "I don't want to say that it was the best year we've had, but it was close to that. It won't look that way on the financial statements, because of the endowments that we have sometimes. So sometimes you have to sift through all that financial information to figure out just exactly what went on, but it was a very good year."
The organization's expenses during 2022 were similar to the previous year, but total revenue was significantly lower. It received $596,360 in income from events and $104,615 from donations, but suffered a loss of $471,699 on investments.
"We can already see those investments recovering," she noted. "It's not money that was ear tagged for anything. So we have time to recover the loss on investments. We're concerned about it, but watching it and listening to our advisors and staying the course."
A very large bequest made it possible for the Foundation to record over $1 million in donations in 2021, which made a significant difference to the financial bottom line compared to 2022.
"We had some endowments last year as well, not to the extent of 2021, but we want to recognize people for their generosity in that regard as well," she said.
The Foundation appreciates all donations that will help to achieve the goal of supporting quality healthcare for residents of southwest Saskatchewan.
"The staff have done a good job of finding programs for donors to dedicate their dollars to if they're wishing to donate to the Foundation," she said. "And even today we were brainstorming new things that we can do for just somebody who wants to give $20 a paycheck or something like that."
The Pharmasave Radiothon for Healthcare is the Foundation's largest annual fundraising event. It was a huge success in 2022 and raised $205,150 for the purchase of equipment used to insert a peripherally inserted central catheter (PICC line) as well as a new blood analyzer at the Cypress Regional Hospital.
A PICC line is used for patients that need to receive frequent treatment and medication. It can be used to administer chemotherapy drugs and other medication, to give blood transfusions, or to take blood samples. The blood analyzer will make it possible to perform tests during the assessment of bleeding patients and to identify patients at risk of bleeding. The availability of this technology at Cypress Regional Hospital will mean residents from the southwest area will not have to travel to Regina or Saskatoon for treatment.
Arnold noted it was the third year in a row that the Radiothon surpassed its fundraising goal. The 2022 total was significantly higher than the goal of $150,000.
"So we're very proud of that and proud of the donors of southwest Saskatchewan and very thankful," she said.
Another highlight from last year's fundraising events was the success of the Darren McClelland Charity Golf Classic. The Foundation has been hosting this annual charity golf tournament for the past 16 years in partnership with local emergency services. It was renamed in 2022 to honour Swift Current's previous fire chief Darren McClelland, who passed away in 2020 from cancer.
"The renaming of the golf tournament to the Darren McClelland Memorial Golf Classic was beyond any of our expectations, where we filled up two golf courses, very full by the way, and it was a huge success," Arnold said. "And it was probably more importantly a really feel-good event. It was well received by everybody and the participation was great."
Other successful fundraising events during the year included the Outdoor Classic held in partnership with the No-Hit Hockey League, the NHL Playoff Hockey Draft, the 2nd annual Bob Pollock Memorial Par 3 Lobster Pot golf tournament and Donut Days.
"Other things that we've done last year, we had a strong focus on helping with mental health issues," she noted. "So we've slowly replaced the beds in the mental health unit at the hospital."
The campaign to raise funds for a new digital X-ray machine at the Prairie Health Care Centre in Cabri continued last year and the fundraising goal of $250,000 was reached in early 2023. The Foundation started a campaign in the spring of 2022 to raise $125,000 for a multi-sensory room at the Shaunavon Hospital and Care Centre and this initiative is continuing.
Foundation staff have been visiting communities in southwest Saskatchewan during the past year to raise awareness and coordinate fundraising efforts.
"I think it's very important to do that," she said. "We want to make sure that we're reaching all corners of our region and assisting in any way that we can that way. It's very important for us to go to some of those smaller communities and talk to them to see what their needs are and what they really want to see for their healthcare facilities, and try to work with them and help them in any way we can for some of the fundraising efforts they might present to us."
The Healthcare Foundation is responsible for coordinating the Lee/Irwin Skills Enrichment Scholarship Program (SESP), which was established in 2001 with the support of the Lee and Irwin families.
The program offers financial support to healthcare workers in southwest Saskatchewan who want to expand their training and education. The Foundation's scholarship committee approved 19 applicants for just under $13,000 in funding support in January 2022. Another 24 applicants were approved at the committee's meeting in August 2022 to receive nearly $15,000 in scholarship funding.
An announcement was made during the annual general meeting that Jim Dekowny resigned from his position as executive director on March 29, 2023 and the board accepted his resignation. He worked at the Foundation since 2013 and became the organization's executive director in January 2020.
"We will be advertising the role, probably within the next week or two, and finding a new executive director," Arnold said. "And in the meanwhile, the board's just filling in where we can and the staff are working very well together."