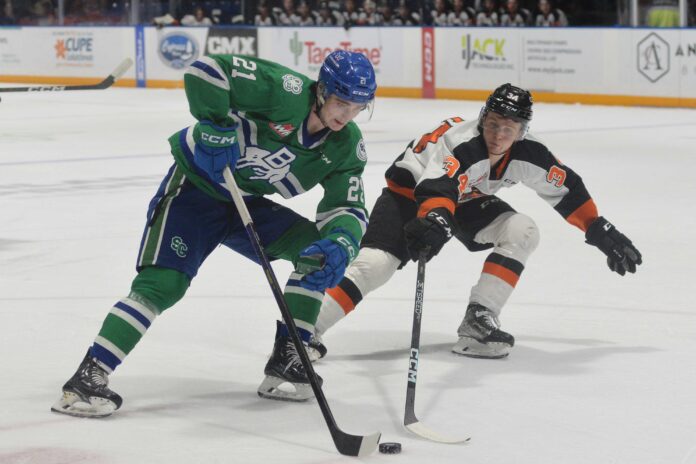 The Swift Current Broncos came up with a crucial victory on Friday with a 3-1 defeat of the visiting Medicine Hat Tigers in their final home game of the regular season.
Caleb Wyrostok scored twice against his home town team and Reid Dyck made 30 saves as the Broncos moved within one point of the final playoff spot in the Western Hockey League's Eastern Conference.
The Broncos took the lead when Josh Filmon collected the puck and fired home his 46th goal of the season from the hash marks midway through the opening period.
The Broncos doubled the lead on a nearly identical goal 4:45 into the third period as Caleb Wyrostok took advantage of a turnover and scored from the high slot, his 23rd of the season. They made it 3-0 when Wyrostok added a penalty shot goal through the five-hole after he was hauled down on a shorthanded breakaway. Tigers call-up Gavin McKenna answered 1:24 later with his fourth WHL goal to spoil the shutout bid.
Reid Dyck improved to 15-22-1-1. Beckett Langkow fell to 24-20-7-1 with 26 saves.
The Broncos improved to 31-32-1-3 with their third straight win. Medicine Hat fell to 29-29-8-1.
The Broncos and Tigers will rematch on Saturday in Medicine Hat. The Broncos now lead the season series 6-0-0-1.