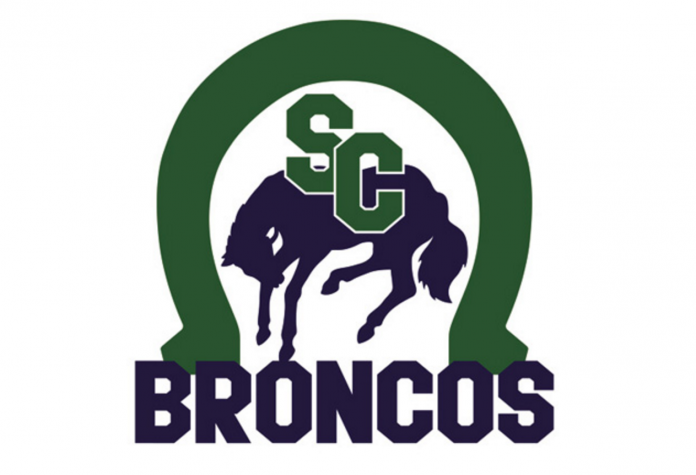 The Swift Current Pure Chem Broncos split a road trip down Highway #39 in the Saskatchewan U15 AA Hockey League over the weekend.
Friday, the Broncos outshot the host Estevan Bruins 46-15 in a 5-1 win. Mason Fauser scored twice, while Chase Petersen and Jacob Penley both had two assists. Theron Watteyne finished with a goal and an assist.
Carter Moen and Kasey Gleim also scored. Jake Hargrave, Jamie Kirwan, and Riley Schmiess added assists. Cade Mitchell earned the win with 14 saves.
Saturday, the Broncos suffered a rare league loss in a 7-4 loss to the host Weyburn Wings. The game was tied 3-3 after two periods before Weyburn scored four goals in the final frame.
Fauser finished with one goal and one assist, while Petersen registered a pair of assists. Moen, Gleim, and Kadyn Olfert also scored. Tyler Hudec, Hunter Wilm, and Watteyne all added assists. Cole Fox took the loss with 24 saves.
Nick Forsyth made 43 saves to lead the Wings.
The Broncos fell to 22-4-1-0 to sit second in the South Division. They will have two games this weekend to conclude the regular season, including a first-place showdown with the Regina Monarchs (23-3-2-0) on Saturday in Regina. They will host the Estevan Bruins on Sunday at 1:15 p.m. at S3 West Arena.
Three members of the Broncos have also been named to the SaskFirst Under-15 roster for the Summer/Fall Camp. Shaunavon's Mason Fauser, Mossbank's Chase Petersen, and Swift Current's Griffin Darby were among the 32 players named to the roster.
Petersen is ninth in league scoring with 65 points in 27 games. Fauser is 10th in league scoring with 64 points in 26 regular season games. Darby has 35 points in 26 games on the Broncos blueline this season.