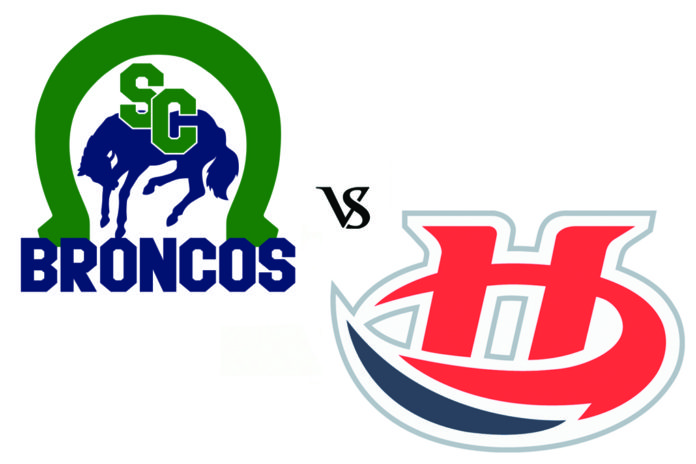 The Swift Current Broncos returned from the holiday break with a 4-3 win over the visiting Lethbridge Hurricanes on Friday. The Broncos took the lead four separate times to earn their third straight win.
The Broncos opened the scoring midway through the opening period when Raphael Pelletier opted for the shot on a two-on-one-rush for his 11th goal of the season. Lethbridge tied the game with a power play goal from Tyson Zimmer late in the frame.
The Broncos took a second lead when Caleb Wyrostok's centering feed ricocheted off a skate and in for his eighth goal of the season. Lethbridge tied the game again minutes later when Cole Shepard fired home a goal from the slot. Josh Filmon gave the Broncos a third lead 14:58 into the middle stanza when he kept the puck on a two-on-one and found the corner on the blocker side for his 21st goal of the season.
Lethbridge tied the game midway through the third period after Reid Dyck made two outstanding saves, but Tristen Doyle scored on the third chance, his first goal of the season. Defenseman Grayson Burzynski gave the Broncos a fourth and final lead 1:20 later when his wrist shot from the point found the back of the net after a Mathew Ward face-off win.
Reid Dyck made 26 saves to improve to 4-10-0-0 for the Broncos. Harrison Meneghin stopped 30 shots to fall to 16–7-0-1 for Lethbridge.
The Broncos improved to 15-15-0-1, while Lethbridge dipped to 20-14-0-1.
The Broncos will host the Medicine Hat Tigers on Saturday. The Broncos passed the Tigers for ninth in the Eastern Conference on Friday and still hold five games in hand.
Bronco Bits: Broncos overage goaltender Gage Alexander signed a three-year deal with the Anaheim Ducks and was been assigned to the American Hockey League's San Diego Gulls. Alexander had an 8-5-0-1 record in his first season with the Broncos after being acquired in an off-season trade from the Winnipeg Ice. Dyck and Joey Rocha (3-0) will now handle the goaltending duties. Broncos forward Josh Davies served the first game of his two-game suspension for a major and game misconduct in Red Deer on December 17.