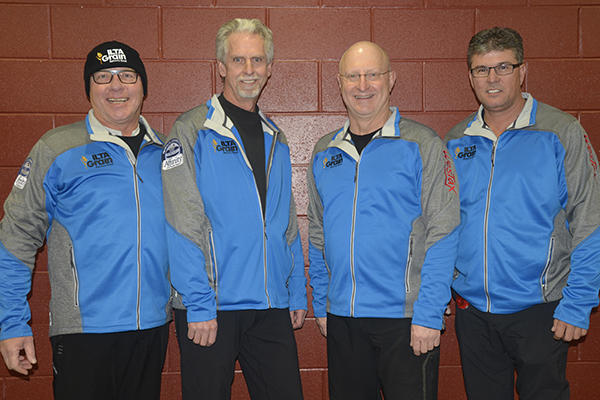 The Max Kirkpatrick rink won both games Friday at the 2016-17 Affinity Credit Union Senior Men's Provincial Curling Championship in Swift Current to clinch a spot in the playoffs.
The Max Kirkpatrick rink, curling out of the Swift Current Curling Club, lost their opener 7-2 on Wednesday afternoon to Saskatoon's Brian Humble.
They rebounded Wednesday evening with a 5-2 win over Moosomin's Daryl Williamson to even their record on day one.
Kirkpatrick is joined by Greg Hannay, Mitch Minken, and Wayne Charteris.
The Kirkpatrick rink moved above the .500 mark Thursday morning when they stole two in the final end to clinch an 8-5 win over Kelvington's Brent Franko.
He added a 10-1 win in four ends over Prince Albert's Bryan Rindal that afternoon. Kirkpatrick scored four in the opening end, three in the third end, and then ended the game with a steal of three in the fourth end. The Swift Current rink finished Thursday with a 3-1 record in second spot amongst eight teams.
Kirkpatrick was back on the ice for two games Friday. He faced Kerrobert's Brad Heidt at 2:30 p.m. won a back and forth game 7-5.
Kirkpatrick moved to 5-1 with an 8-5 win over Regina's Randy Gilewich Friday evening.
Kirkpatrick will wrap up the round robin on Saturday at 9 a.m. against Saskatoon's Darrell McKee.
The top three teams from the eight-team round robin will qualify for the playoffs. The second and third-place teams will meet Saturday at 7 p.m. The winner will then move on to the final to take on the first-place team on Sunday at 12 p.m.