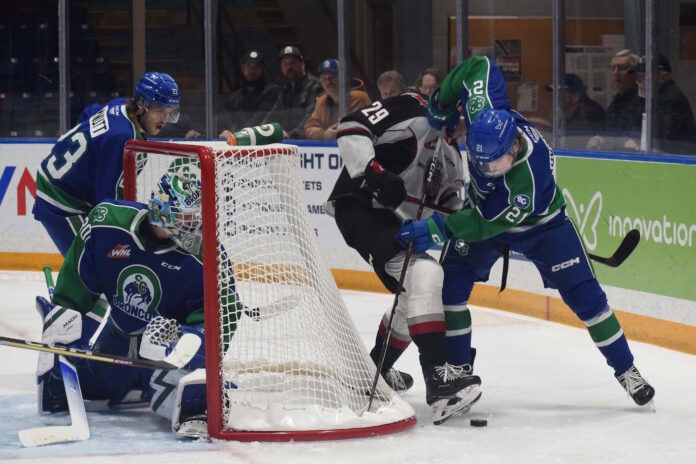 The Swift Current Broncos won their fourth straight game when Sam McGinley scored midway through overtime for a 5-4 win over the Vancouver Giants. The overage defenseman snapped home a shot from the slot for his second goal of the season after the Broncos had let a two-goal, third-period lead slip away.
The Giants took advantage of a defensive zone turnover to take the initial lead with a Ty Thorpe goal. Caleb Wyrostok tied the game late in the first when he got behind the Vancouver defense and deked out Brett Mirwald to the backhand.
Ty Halaburda gave the Giants a second lead with his fifth goal 4:03 into the middle stanza. Josh Davies tied the game again for the Broncos when he collected a loose puck in the slot and fired it home through a crowd. Wryostok gave the Broncos their first lead when he went to the net and scored his second of the game midway through the period.
Raphael Pelletier doubled the lead early in the third period with a breakaway goal that he lifted over the glove side of Mirwald during four-on-four-action. Jaden Lipinski quickly replied for the Giants with a power play goal after a lengthy scramble around the Broncos crease. Samuel Honzek tied the game with 5:24 remaining with his eighth goal of the season for the Giants.
Reid Dyck earned his first win of the season with 40 saves. Brett Mirwald fell to 1-1-2-1 with 39 saves for Vancouver
The Broncos improved to 6-7-0-0 as they continue to dig their way out of a slow start.
Vancouver fell to 2-2-1-0 on their East Division road trip to move to 5-7-2-2 overall.
The Broncos will host the unbeaten Red Deer Rebels on Friday.
Bronco Bits: The Broncos were without head coach Devan Praught and rookie Josh Fluker and Clarke Caswell due to their participation in the World Under-17 Hockey Challenge.