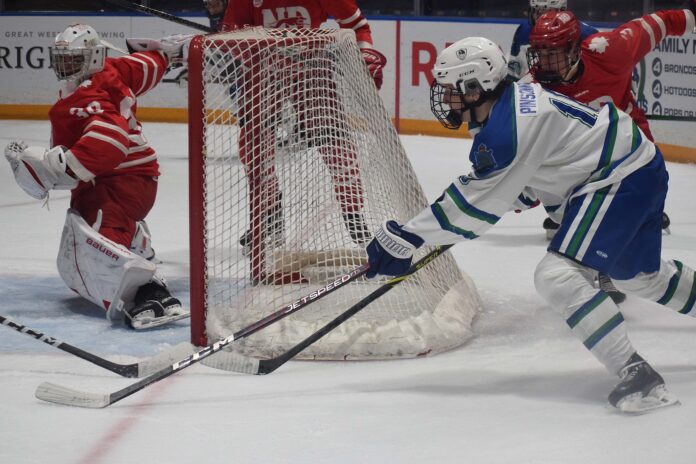 The Swift Current Home Hardware Legionnaires scored three unanswered goals over the final 3:43 to defeat the Notre Dame Hounds 4-3 in their home opener on Friday.
Hudson Darby scored twice over that stretch, including the game winner with 20 seconds remaining in regulation.
"To be honest I didn't even know really what happened. It kind of bounced up high behind the net and I was there and I just batted it and I think it went off the goalies' back or something," said the Legionnaires captain of the game winner.
Parker Rondeau had tied the game with 1:51 remaining while on a late power play. The Legionnaires trailed 3-1 after two period despite outshooting the visitors 28-13 along the way.
"I think we just pushed. We started stopping on pucks and really bearing down when it meant the most. We've got a great group of guys in there and it was good to push through today," explained Darby.
"It was a bit scrambly at the start of the game. We just faced some adversity and we came back. Those are the points we need. It puts us up a spot, we were tied with those guys before the game, so it's good to get ahead of them," he added.
Eric Hoiness also scored, while Berney Weston earned the win in goal as the Legionnaires won their six straight game.
"It's just our hard work. We're not going to beat teams with skill, so our team has to work hard and it just shows that we're going to be a top team in this league," said Darby.
The Legionnaires improved to 6-2-0-1, while the Hounds fell to 5-3-0-1.
The Legionnaires will host the Moose Jaw Warriors (3-3-0-2) on Tuesday at 8 p.m. at the InnovationPlex.