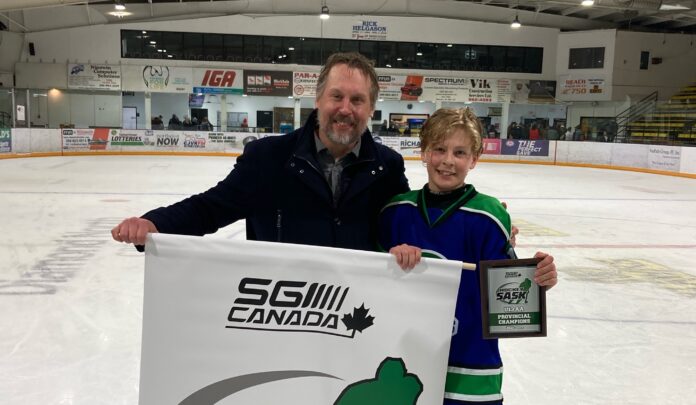 Travis Moen's hockey journey came full circle on April 6 when he coached the Swift Current SWT Broncos to a U13 AA provincial championship with a 5-2 win over the Tisdale Ramblers in Nipawin.
Moen had won a Peewee AA championship as a member of the Swift Current Mall Kings 26 years earlier.
"It's so much fun to be able to relive what I had 26 years ago. To see it in their faces after we won was pretty special," said Moen while on the bus trip home from Nipawin.
Moen's Kings defeated the Saskatoon Barons 4-3 in overtime in North Battleford to capture their provincial title in 1996.
"It's definitely more stressful as a coach," he laughed when asked about the difference between playing and coaching. "I'm not going to lie to you. When you're in the moment with your team there's not as much pressure because you're in the moment and you can control the game. As a coach it's completely different. You're sitting on the bench and you're kind of reflecting back on the year and hoping you taught them the right things and taught them the right way to play and the right systems and all that kind of stuff."
The provincial championship capped a storybook season for Moen and his team.
"It all came down to the players, their work ethic and them buying into the system and just that desire to win. It wasn't coaching, it was all the players that made this happen. It's fun to be a part of it, to be a coach and watch these kids grow as players and get better every week, every month, and every tournament we played in," he said.
Moen was slated to coach the U13 Broncos last season until the pandemic derailed that campaign.
"It's been really good. We have a great parent group, a great bunch of kids. They all have positive attitudes, they all work extremely hard. I couldn't be more blessed as a coach to coach these kids that all buy in and want to win and want to learn. That's the best thing about coaching is you kind of put a system in place and hope the kids learn and they did all year long. You could watch them as the year went on and they grew as players and got better and wanted to learn more. I'm pretty sure if this team said let's enter four more tournaments they'd want to jump on board and keep playing. It's been a blast."
Moen skated in 747 NHL games with the Chicago Blackhawks, Anaheim Ducks, San Jose Sharks, Montreal Canadiens, and Dallas Stars. The Stewart Valley native said that many of the lessons he learned along the way have resurfaced early in his coaching career.
"Whether it's Peewee or Bantam or WHL or NHL you learn from previous coaches and the things they had said along the way, systems they put in place for you. Obviously I'm a defensive minded coach because that was kind of my role in the NHL. Trying to teach the kids how to play without the puck and how to play on the defensive side of the puck."
He even heard from his Bantam coach shortly after winning the provincial title.
"Barry Flichel was a coach, he texted me tonight and said congrats and that your kids played a full 60 minutes and they were getting pucks in deep when they needed to and playing smart defensively."
The win was a chance for him reflect on many of the coaches who helped him along the way.
"Those are the guys you look back on and say thank you for teaching me how to play the game the right way. Whether it's a Randy Carlyle in the NHL or guys along the way like Marc Habscheid that taught me in Junior, guys that gave you some influence and taught you how to play the game. You try and push that forward and teach your kids the same way. Definitely a lot of thanks to those guys for teaching me how to play the game and hopefully I can pass that forward."
Moen's son, Carter, tied for second in the province with 13 assists in 11 playoff games and was tied for seventh with 19 points. Carter Moen finished fourth on the Broncos with 41 points in 25 regular season games.
"It's awesome to be able to coach your own kid. I see a lot of me in him, his work ethic and his determination to win. He's got better hands than me, that's evident for sure," he laughed. "It's just really special to be able to coach you're own son and be successful while doing it. It's something we'll never forget."
Moen has already been tapped to coach the U15 AA Broncos next season.
"Hopefully I can keep growing with this group of kids and keep trying to coach them along the way and keep building memories."
Moen and Regan Darby founded and operate the Swift Current Hockey Co. as they work to develop elite hockey players in the Southwest. Moen said that almost all of his players were involved with the company and hoped that the hard work was paying off.
"Our goal is just to try and make kids in Swift better hockey players. Not saying that they're not good hockey players, but we feel like more time on the ice is better for you, develops your skills, your active training, all that kind if stuff. It's all on the players. If you want to come to our camps and dog it it's not going to help you. But every single kid that wants to come to our camps wants to get better and you could see it on the ice. We're starting to see some things that we're trying to teach them through our skills that are starting to translate to games and practice situations."
With both the U13 and U15 AA Broncos making it all the way to the provincial finals, it seems that the commitment to skill development is already paying off.
"It's fun being on the ice with these kids and trying to work with them and teach them to be better hockey players with different skill sets. Hopefully it's helping. Obviously with the U15's making the provincial final and us winning I think it starting to prove that extra time on the ice definitely pays off," said Moen.