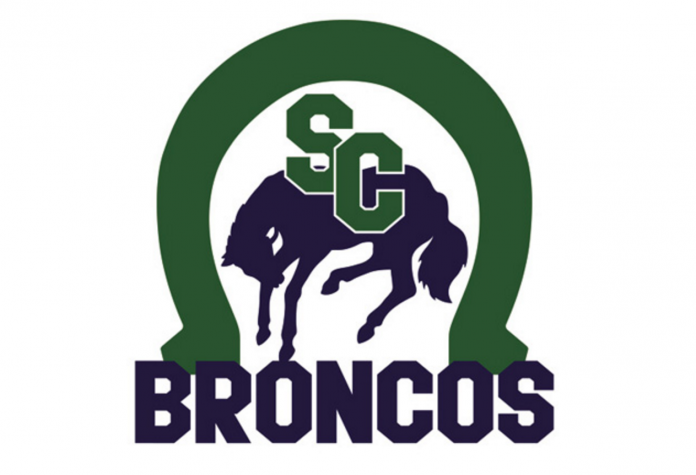 The Swift Current PureChem Broncos won two of three road games in the Saskatchewan U15 AA Hockey League this week.
The Broncos lost 5-3 to the host Saskatoon Bandits on Wednesday. Ryder Woods, Mason Fauser, and Wesley Olson all scored with assists from Theron Watteyne, Dylan Gedny, Kai Packet, and Griffin Darby. Berney Weston took the loss with 36 saves on 41 shots.
Wyatt Bouvier made 41 saves for the Bandits.
Saturday, the Broncos outshot the host Melville Millionaires 57-7 in a 7-0 win as Conner Bender earned the shutout. The Broncos scored three power play goals and four different players had three-point outings. Parker Rondeau and Chase Petersen each had two goals and one assist, while Brady Simpson and Sam Kirwan both registered three assists.
Woods finished with a goal and one assist, while Jace Egland and Fauser also scored. Watteyne, Packet, Darby, Will Kirwan, and Olson all added single helpers.
Sunday, the Broncos fired another 57 shots on goal in a 9-0 drubbing of the host Notre Dame Hounds. Weston earned his second shutout of the season with 17 saves.
Woods led the Broncos with three goals and two assists and Darby finished with five assists. Egland added three goals and one assist and Rondeau registered two goals and two assists. Sam Kirwan had three assists, Olson registered a goal and an assist, while Petersen and Will Kirwan each chipped in two assists.
The Broncos remain second in the South Division with a 21-2-0-1 record, one point back of the Prairie Storm.
The U15 Broncos are at home next weekend to host the Estevan Bruins on Saturday at 7:30 p.m. They will also host the Regina Aces on Tuesday at 7:30 p.m.