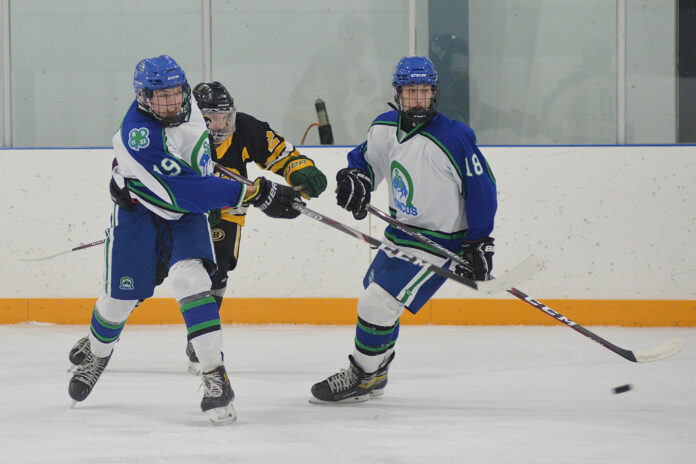 The Swift Current Abbey Resources Broncos split a weekend home stand against one of the top teams in the Saskatchewan U18 AA Hockey League.
Friday, the U18 AA Broncos built up a five-goal lead and held on for a 6-5 win over the Estevan Bruins. Ethan Hopfner led the Broncos with two goals and one assist, while Campbell Pinsonneault added a goal and two assists.
Garrett Kurtz registered a goal and an assist. Logan Stewart and Keynan Cairns both had two-assist outings. Ben Patenaude and Carson Sabine also scored. Caleb Stechyshyn, Burke Osinski, and Carter Girodat all added single helpers. Cade Doane earned the win with 36 saves.
Saturday, the Bruins took the rematch 5-3. Swift Current scored all three goals on the power play.
Girodat and Pinsonneault each had a goal and an assist. Stewart also scored, while Carter Lamotte, Stechyshyn, and Burke Osinski all added assists. Hunter Arntsen took the loss with 36 saves.
Spencer Copeland led the Bruins with two goals and two assists, while Ty Fehrenbach made 23 saves.
The U18 AA Broncos finished the weekend with a 10-13-0-1 record, while Estevan sat at 17-3-0-1.
The U18 AA Broncos will visit the Prairie Storm (2-16-0-0) for two league games this weekend.