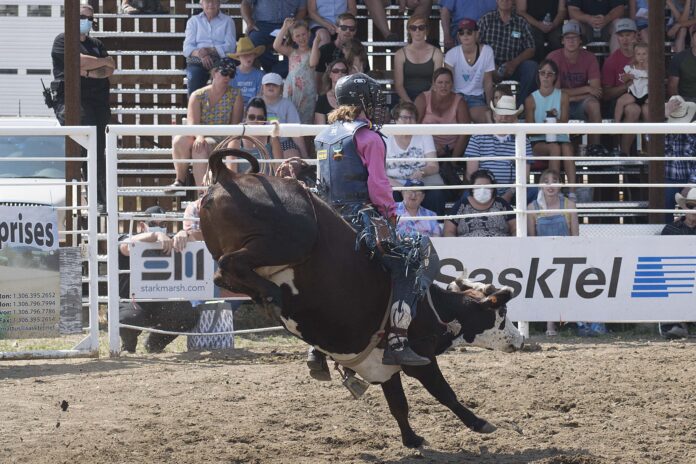 The Herbert Stampede was a hot spot for Southwest competitors over the August long weekend.
Maple Creek cowboys swept the top two spots in Bareback in Herbert. Brady Bertram won the event with 73 points on View Master for $1,275. Blake Link placed second with 69 points on Yellow Jacket for $1,154.
Waldeck's Tee McLeod picked up the win in Team Roping with Brady Chappel (Moose Jaw) in 4.9 seconds for $2,773. Riley and Ryan Hayes followed in fourth spot in 5.4 seconds for $1,688. Shay Gold (Maple Creek) and Cody Gabruch (Consul) placed sixth in 6.0 seconds for $964. Shamrock's Kevin Turner worked with Matt Switzer (Moose Jaw) to place eighth in 6.3 seconds for $241.
Maple Creek's James Perrin picked up the win in Novice Saddle Bronc with a 69-point ride to claim $292.
Waldeck's Tyce McLeod tied for top spot in Tie Down Roping with Denton Dunham (Indian Head) in 8.4 seconds for $1,044. Mankota's Shawn Williamson tied for third in 8.8 seconds for $753. Waldeck's Tuftin McLeod followed in sixth spot in 9.2 seconds for $388.
Mankota's April Williamson sped around the barrels in 15.24 seconds to place second in Ladies Barrel Racing for a $1,530 payday. Bailey McCannell (Brandon) won in 15.19 seconds. Maple Creek's Kerry Maynes tied for fourth in 15.45 seconds for $956.
Maple Creek's Kahl Wasilow tied for second in Junior Steer Riding with 68 points for $222. Stoughton's Kaden Piper won the event with a 72-point ride.
Maple Creek's Casey Bertram was third in Saddle Bronc in Herbert after compiling 70 points on Roll Model for $581. Mason Duijsens, riding out of Morse, was sixth with 61 points on Big Jim for $153.
Swift Current's Tori Hansen placed fifth in Junior Girls Barrel Racing in 15.97 seconds for $121. Unity's Kaybree Zunti won the event in 15.67 seconds.
The CCA is back in the Southwest this weekend for the Kyle Community Rodeo and the Sandhill Rodeo in Lancer on Saturday and Sunday.