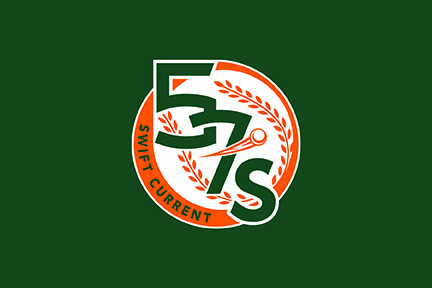 The Swift Current 18U AAA 57's dropped both games to the host East Central Red Sox in the Saskatchewan Premier Baseball League on Canada Day.
The 57's allowed 10 unanswered runs over the final three innings in an 11-2 loss to open the day. They were leading 2-1 in the fourth inning before the Red Sox scored five runs, followed by two in the fifth and three more in the sixth inning.
The 57's were held to three hits, including two singles that came off the bat of leadoff man Cash Arntsen, who had one run batted in. Rydell Adair doubled, walked, scored, and had the other RBI. Ben Patenaude and Riley Bowers both were on base with a pair of walks each. Dawson Schultz scored the other run after reaching base twice on errors.
Joel Bauml earned the win for the Red Sox after allowing two hits and one run over 5.2 innings.
The 57's lost the second game 2-1 in extra innings. The Red Sox took an early lead before the 57's tied the game in the fourth inning when Wyatt Harkes homered to lead-off the inning.
Ethan Murdoch and Kelsey Rokochy both doubled, while Rylan Hildebrand and Arntsen also singled.
The 57's pitchers held the Red Sox to six hits and two runs. Schultz made the start and allowed three hits, two walks, and one run while striking out six over 3.2 innings. Adair allowed three hits without a walk over 3.1 innings.
The 57's fell to 5-9 on the campaign, while the Red Sox improved to 8-6.
The 57's will return to action on Sunday when they host the Regina Athletics (8-5) for a double header at Mitchell Field beginning at 1:30 p.m.