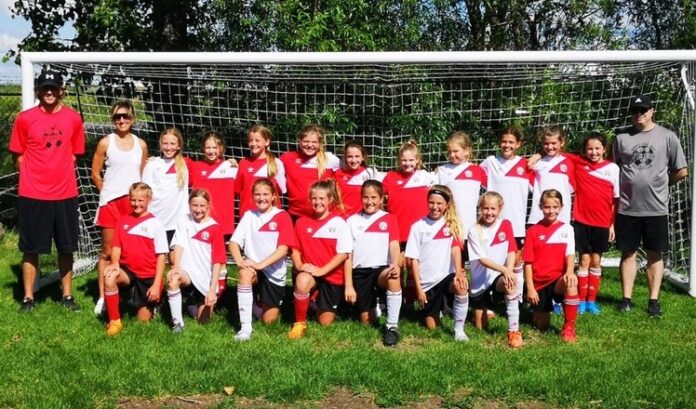 Six Swift Current United Soccer teams were in Regina for friendlies against FC Regina and QC United teams over the weekend. It was a dominant road trip for the club as they finished with a nine wins, two losses, and one draw.
Three boys teams were in action on Saturday and finished with a 4-1-1 record.
The U13 Boys picked up a pair of dominant wins over FCR opponents. They opened the day with a 10-1 win over FCR Sparta, led by four goals from Amanti Eticha. Griffin Striker added two goals, while Lanni Harrison, Nathan Odiyo, Kye Griffin, and Will Hokhold all added singles.
The U13 Boys added a 3-0 win over FCR Athletic as Karsyn Lowenberger kept the clean sheet in goal. Hokhold, Eticha, and Odiyo all scored for a second straight match.
The U11 Boys opened their day with a 9-1 win over FCR Forte, led by three goals from Gradyn Jackson. Jack Thomson followed with two goals, while Camden Newton, Blayze Jenzen, Junwoo An, and Petro Kalausis also found the back of the goal.
The U11 Boys added a 5-0 win over FCR in the afternoon as Jackson, Thomson, An, Ari Parmar, and Tomass Jarrett all scored.
The U15/17 United Boys tied their opener 1-1 against FCR on a lone goal from Derric Dulatre. They dropped the rematch 2-0.
Three female teams laced up their boots on Sunday and finished with five wins and one loss.
Two U11 Girls teams faced FCR and QC United opposition.
The United U11 Red won both matches without conceding a goal against. They opened their day with a 19-0 win over QC United.
The U11 Red squad followed up with a 7-0 win over FCR, led by a hat trick from Kira Gatzke and a two-goal outing from Mackenna Striker. Rowan Robinson and Piper Arntsen also scored as Saylor Cuthbert and Gatzke combined for the clean sheet.
The United U11 White team outscored their opposition 10-2 in a pair of victories.
They opened the day with a 5-1 win over FCR on goals from Baillie Busse, Laynee Rondeau, Kapri Darby, Aesa Gunstenson, and Veda Stringer.
U11 White closed out the day with a 5-1 win over QC. Gunstenson and Rondeau each scored twice, while Darby added a single.
The United U13/15 Girls finished with one win and one loss in Regina.
They suffered a hard-fought 4-2 defeat to QC United on Sunday morning on goals from Navy Louma and Dakota Jorgensen.
The U13/15 Girls rebounded in game two to defeat the FCR Dash 4-0. Dani Meyer scored twice, while Mapalo Mushoriwa and Louma also scored. Danica Jackson and Nalani Chan shared the shutout in goal.