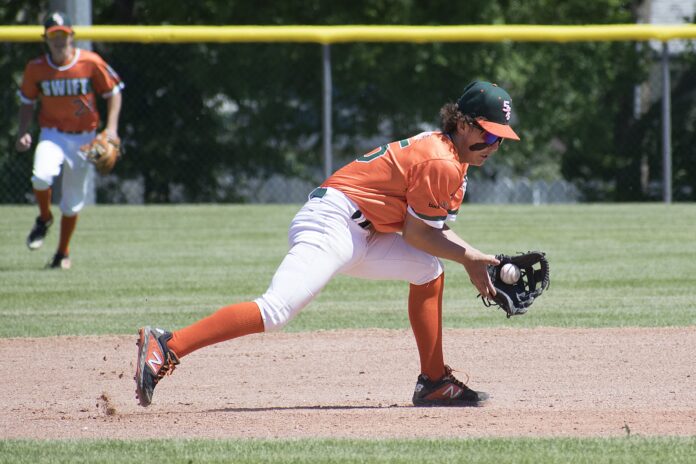 The Swift Current 18U AAA 57's won two of four games in the Saskatchewan Premier Baseball League over the weekend.
The 57's won their third straight game with a 3-2 victory over the host Moose Jaw Canucks on Friday.
Wyatt Harkes earned the complete game victory as he held the Canucks to four hits, one walk, two runs, only one that was earned, while striking out eight over seven innings.
The 57's were held to five hits, but Riley Bowers singled home Ethan Murdoch in the top of the seventh inning for the winning run. The 57's had taken the lead in the first inning when Ben Patenaude singled home Murdoch and Dawson Schultz.
Cash Arntsen had two hits, including a double, out of the leadoff spot, while Harkes got on base with a pair of walks.
The winning streak came to sudden halt on Saturday in an 8-0 loss to the host Regina White Sox. Patenaude had the 57's only hit in a losing cause.
Zach Dobson pitched six hitless innings for the White Sox, walking six and striking out eight in the win.
The 57's lost the rematch 13-1 when they were held to three hits. Rydell Adair had the lone RBI when he cashed in Schultz with a sacrifice fly in the fourth inning. Adair pitched 2.2 scoreless innings in relief without allowing a hit or walk while striking out one.
Sunday, the 57's scored three unanswered runs to defeat the visiting White Butte Broncos 3-2.
Schultz earned the complete game win with nine strikeouts as he held the Broncos to two hits, two walks, and one earned run over seven innings.
After falling behind 2-0 in the first inning, the 57's replied with a pair of runs when Bowers tripled to score Kelsey Rokochy and Murdoch. They added the winning run in the third inning when Murdoch singled home Cash Arntsen.
The 57's (4-4) will host double headers this weekend against the Sask5 Giants (7-2) on Saturday and the South East Twins (3-7) on Sunday beginning at 1 p.m. at Mitchell Field.