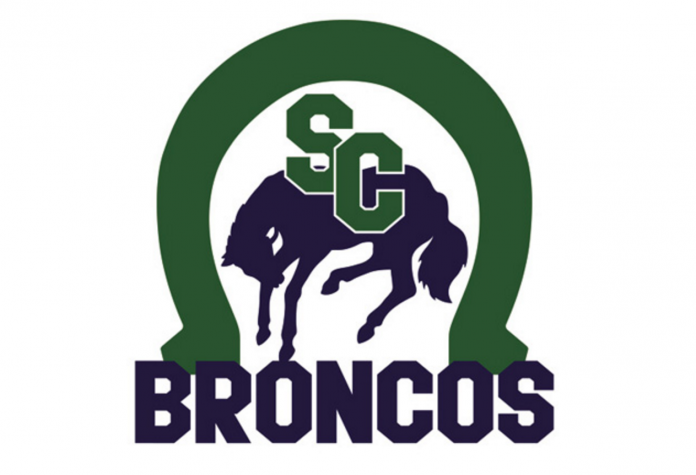 It's unlikely that 16-year-old former ninth round draft picks are often viewed as crucial pieces to a franchise rebuild with only 18 games of Western Hockey League experience. But it wouldn't be unreasonable to wonder if defenseman Owen Pickering can help lead the Swift Current Broncos back to playoff relevance in the WHL in the near future.
Just a few months ago Pickering was unsure if he would be with the Broncos in the East Division Hub and now he has become a mainstay in the Broncos top two pairings and has seen regular duty on the power play and penalty kill.
"It's been a whirlwind. I can't really say I expected to come in and be kind of put in this role. I've tried to rely on being confident in my abilities. As I've gotten more and more comfortable I've realized more and more that I belong here and I can play at this level and I can do well. I think that's the biggest thing is realizing that. Once you do that it's all about just executing. I didn't really expect it, but it obviously been a really pleasant surprise. It's been a crazy ride, that's for sure," said the St. Adolphe, MB product.
"Owen's been really, really good. He's playing a lot more minutes than he should just because of guys that have gotten hurt here. I didn't expect him to be playing this much. It's been really good for his development," said Broncos Head Coach Dean Brockman.
When Pickering entered the Hub, it looked like he may be able to ease his way into the WHL, but after the Broncos blueline was decimated by injuries and illness, he was given a prominent role and has ran with it.
"You're kind of thrust into different situations and you've just got to learn on the fly. There's a lot of lessons that I've learned, just learning how to be an effective defenseman at this level. I want to be a really good defenseman in the Western Hockey League. There's been some moments where maybe I don't make the right play or there's another play to be made, but I just try to take that in stride and don't make that mistake twice. If I can continue to do that I think I can keep getting better and better."
"There's times when he's still got a little bit of the U18 in him where he's all over the place. But he's got tremendous tools and he's got a tremendous head for the game. There's a lot of upside with him for sure," said Brockman. "We're trying to harness some of his energy at times just because he's had to play so much. I give him a lot of credit, he's a student of the game, so he's going to get better and better as we go."
Pickering was second amongst Broncos defensemen with eight points in 18 games to open his WHL career.
"There's a lot of guys on my team that know how to win. My D partner, Owen Williams, has been huge for me. He knows exactly what I'm going through and that's helped me because I can lean on him, whether it's on the bench, after the game or after practice. If I've maybe had a tougher day I can talk to him and he's had all these experiences before. I really respect his advice and I find he's been huge for me in terms of allowing me to just play free. When I'm out there I'm not really worried about where he's going to be because I know he's going to be in the right spot."
Pickering also credited assistant coach Scott Dutertre with helping him adapt to the WHL.
"He's been huge for me. He's a very good coach, the D coach on the bench. It's been little things, just little tweaks in my game that can be made during the game or after when we're watching video. He said prior, in a different interview, where the strides that I've made since I came here have been huge and I think that's due to him a lot."
Pickering was recognized with a spot on the East Division Team of the Week earlier this month after he posted four points and a +3 rating in three games.
"It was unexpected that's for sure. I hadn't really paid much thought to that recognition. It's pretty cool. You're not really, especially me coming into the bubble and not knowing what to expect, obviously it's a tough league to play in, especially for a 16-year-old defenseman. I think that I've found a little bit of success here. I have a really good partner to play with and I'm getting some opportunities. I just think that recognition is kind of icing on the cake. You do pay attention to that stuff and it was pretty cool. It was kind of crazy to be recognized with some of those great players in this Hub. I want to be there one day, I want to be one of the top players."
Pickering was selected with the opening pick of the ninth round in the 2019 WHL Bantam Draft, 177th overall. He was listed at 5'7'' and 131 pounds when he was drafted. He now stands 6'3'' and weighs 175 pounds.
"I just think that I've worked hard. I've always believed in the type of hockey player that I am. I never really looked at my draft slot as anything other than the next team I'm trying out for. So I never thought 'Oh I'm a ninth-round pick so I shouldn't try and make it as a 16-year-old.' I looked at it and I was a later round pick and wasn't really developed. I was like 5'7''. I was still a little kid. I hit a growth spurt there and I have been working really hard in the gym going to Rink Hockey Academy in Winnipeg, working out everyday helps me quite a bit. I just took it one day at a time."
Last season, Pickering registered five goals and 16 assists in 34 games with the Rink Hockey Academy Elite 15s in the U16 CSSHL.
"Even a couple months ago I didn't know if I was coming here or not. I felt that I had put myself in a spot where even if I didn't come I would be proud of the effort I put into trying to be here. Obviously I got rewarded and it's been really cool."
Pickering is joined on the Broncos by fellow 2019 picks Reid Dyck, Mathew Ward, Josh Davies, and Rink teammate Josh Filmon. The group is hoping to help lead the Broncos back to championship contention in the near future.
"We do talk about it. We talk about how we want to win now and we feel like we're very underrated as a group right now. We've had some tough games, but we've also beat the best team in the Hub and went to overtime with them twice. We have close games with every team in the Hub and we've come out on the wrong side. Not taking away from how bad we want to win now, we're all hockey players and we're all competitive, we definitely do talk about how this is the group that hopefully can be really good in this league in a couple years. Hopefully with the other younger guys coming in there can be an influx of talent. We want to win, so we do talk about it. It's really hard to not talk about it when we're sitting around. We're having a little bit of success here and a lot of the young guys are doing well. You see that and you start to think 'What could it look like in a few years?'"