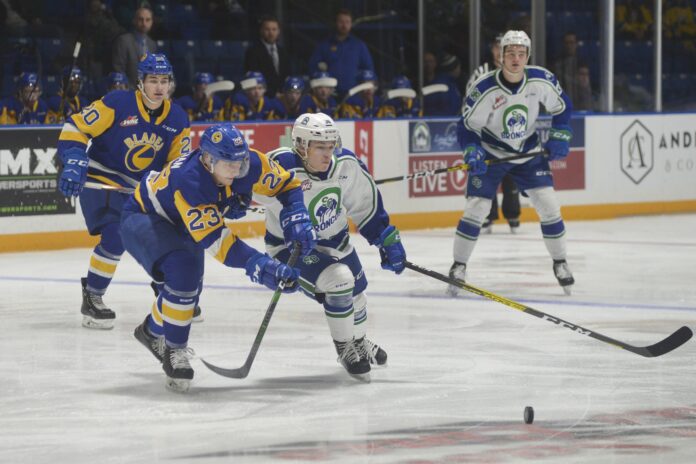 The Swift Current Broncos took the first step towards a return to the ice when they checked into the Regina Hub on Saturday.
Broncos players and staff arrived at Luther College on the University of Regina campus as they work towards a March 12 start to the 2020-21 Western Hockey League regular season.
"I checked in just before 8 o'clock," said returning forward Bode Hagan. "There was a bit of a line-up as we were waiting for Regina to finish up. Last night was just getting acquainted with the surroundings and then this morning we had a quick little workout, COVID testing, and then lunch and some meetings. It's been pretty low key so far."
Eventually the Broncos will play 24 games against four Saskatchewan and two Manitoba teams, but for now the Broncos are in a quarantine period.
"We have another six days of just quarantine. So we're all in our own rooms. We have different times for showers and stuff outside or the bathroom we have to kind of communicate with the guys on your flat area. We're pretty much stuck in our rooms for another six days and then I don't know what's going to happen then," Hagan explained.
Hagan is hoping to stay relatively busy while confined to his single dorm room.
"A lot of it is just talking to the team, Facetiming family and friends and all that kind of stuff. A little bit of video games here and there. Today was pretty good, we had quite a few meetings and that passed the time well."
It's been almost a calendar year since COVID-19 ended the Broncos 2019-20 season prematurely.
"At the beginning it was mostly nothing because everything was shut down," said the Alsike, AB product. "But as stuff started to progressively open up I got really into golf during the summer. I golfed a tonne and then obviously continued to skate and workout every day, five days a week. A lot of golf and a lot of family time, which was good. But after a while you are kind of just chomping at the bit."
Hagan and the Broncos are eagerly anticipating a return to the ice, which could come in the form of a practice next Thursday or Friday if their test results come back negative.
"Yeah I am. You can kind of sense it in the building, a little bit of a buzz. A lot of us, or all of us have been waiting eleven-and-a-half months, so I think there is just a level of excitement. It's going to be really good once we are finally able to get going again."
Hagan entered the Regina Hub one day after his 19th birthday. He said he didn't have any reservations about entering the Hub or a return to the ice amidst the pandemic.
"No I don't think so. I think that everybody at this point kind of knows what it's like. They've done such a good job keeping everything restricted and keeping us safe that we're able to do this. I think it helped everyone out to feel a bit at ease with it."
Hagan suited up in 24 games with the Broncos last season after being acquired from the Brandon Wheat Kings in a trade deadline deal. The 5'8'', 179-pound right wing had four assists in 18 games with the Wheat Kings and one assist with the Broncos.
"I felt last year I had some okay success, but I think this year is a little different. Last year I was kind of sticking my toes in, but this year you get a lot more confidence, you mature, and you are more comfortable with the room and the guys, so it's good. I am excited, I think it's going to be a good year, the 24 games anyways."
Hagan is one of 10 returnees on the current 25-player roster.
"I think we just have to build with the time we have. We have a lot of great leaders in our room. We need to include everyone in everything that we're doing, whether that's Facetimes or whatnot, have everyone involved so that the younger guys feel a level of comfortability with everyone and they don't need to be timid with everyone when the time comes."