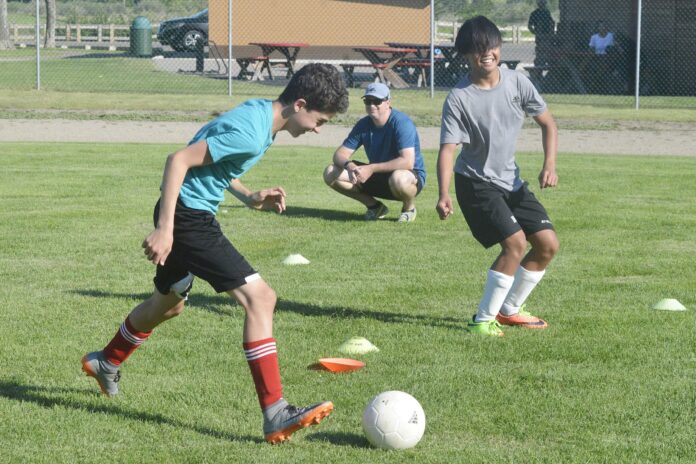 Chad Striker received national recognition for his efforts to get soccer back on the pitch in the midst of the COVID-19 global pandemic.
The Swift Current soccer coach was recently named one of eight 2020 Canada Soccer Nation Champions presented by Toyota.
The annual recognition campaign focused on honouring volunteers who supported their club or academy on protocols under Canada Soccer's Return-to-Soccer Guidelines in 2020.
"This summer, Chad was the first one to step up after the initial wave of COVID to ensure that kids had the opportunity to play again. He worked countless hours alongside public health and our board in a volunteer capacity to orchestrate return to play day camps for the kids. No stone was left unturned to ensure that it could be done safely and providing an experience the kids would not soon forget," noted the award announcement.
"I was kind of dumbfounded I guess," admitted Striker of the national recognition. "I got a text from Markus Reinkens (Saskatchewan Soccer Coordinator of Sport for All) saying congratulations on the CSA award. I said, 'What award?' He sent me this link and I read and was like, 'Oh okay, that's nice.' I was taken aback mainly."
Striker, who is the principal at Herbert School, initially organized two weeks of soccer camps in July.
"It's just to give the kids something first and foremost. You see the disconnect as a school teacher in the kids in school. At our school we tried to do family challenges that would keep the community together. You kind of just saw the disinterest in basically everything."
"Once there was an opportunity to maybe get soccer back and running I just wanted to do that for kids, maybe specifically my own as well, but the kids needed to get back and doing stuff. I feel that they have lost the most in the pandemic," he explained.
Bringing soccer back safely was no easy feat explained Striker.
"Canada Soccer came out with a Return to Play plan. It was four stages and each time you started you had to start at stage one, which we're back at right now. It's no contact between players, just ball skills, fundamentals. We had to present a plan to Canada Soccer to show that we were inline with their plan and then get it approved by Sask Soccer. You had to follow all of the national sport guidelines, but also the provincial guidelines. In Reopen Saskatchewan 4.1.2 we were able to get some camps together.
After the first two camps were well attended and well received, the Swift Current Soccer Association added another camp in August.
Striker added that he was fortunate to have a lot of coaches step up to help out during the three weeks of camps. He noted that he had six high school athletes coach the younger age groups and another six more seasoned coaches working with the U13, U15 and high school age groups.
Striker added that House League Coordinator Michelle Newton played a major role in bringing soccer back safely.
"Michelle Newton, with her health background, has been unreal for keeping us safe, keeping us within the health guidelines and having that knowledge and ever-present voice of 'Okay so this needs to be done, this sanitation has to happen.' I couldn't have done it without her for sure. She was awesome in the first part of it for sure, in terms of making sure that we were following all the health guidelines in the summer and then just continued in that."
Read the January 14 edition of the Southwest Booster for the complete story