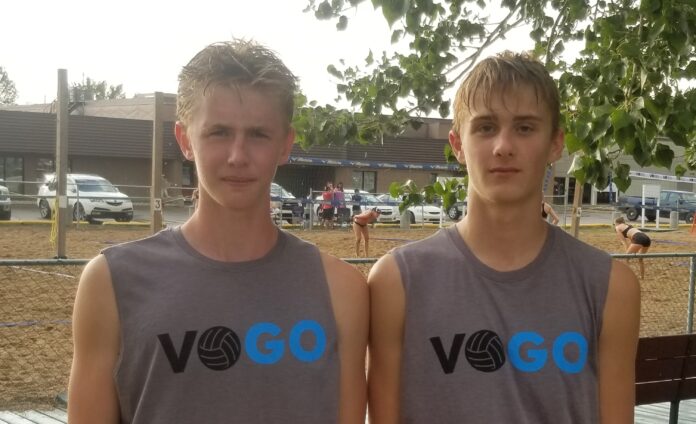 Shaye Wall and Griffin Duncalfe won their second straight beach volleyball tournament on Saturday.
The VOGO tournament was played in windy conditions in Regina. "We'd serve into the wind and the wind would just take the ball and it was super hard to pass," explained Duncalfe. "We were doing that lots and just finding open spots on the court and just making them scramble lots."
The Swift Current duo are relatively new to beach volleyball, but they did win a tournament in Saskatoon on August 9.
"Going to that first tournament definitely helped us a lot. We started working better as a team on Saturday and you could definitely tell," said Duncalfe.
"We really focused on making a good first pass because if we did that then we could get a swing off it, which is a lot harder to return than a free ball," he added. "I think we did a good job of doing that, which helped us get a lot of our points."
Both players had spent the past week in Saskatoon training with Volleyball Saskatchewan on the indoor court. Duncalfe is a part of the 16U Sask Selects White team and Wall is training with the 17U Sask Youth team.
"We were a bit sore, our legs were tired. I think it kind of helped us because we both learnt lots from the camp, so we could use what we learnt in beach. Yeah I think it helped," explained Duncalfe.