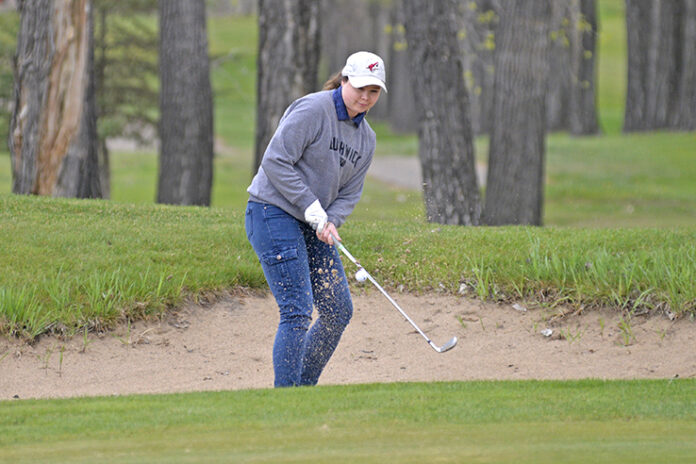 While many social and sporting activities were banned during the May long weekend due to the COVID-19 pandemic, golf season in Saskatchewan was able to get underway with opening day on May 15 at courses across the Southwest.
The experience may have been slightly altered by social distancing rules, but golfers were still excited to get out on the course.
Amongst the most noticeable changes was a 12-minute gap between tee times to avoid congestion, no drink or snack carts on the course, no washrooms on the course, and the flag having to remain in place. Physical distancing of two metres between individuals is also mandatory, including a limit of one person per cart unless they are from the same household.
"It's gone really well," said Elmwood Golf & Country Club Head Professional Brennan Rumancik. "Obviously there is a lot of uncertainty around the world right now. With golf being one of the only sports that's been allowed to come back we are going to be put under the microscope a little bit more, just to make sure we're following all the protocols. Myself and the whole team at Elmwood have done countless hours of planning and lots of emails out to the membership and lots of social media posts to kind of show what we are doing. It's went well. We opened on Friday and we haven't had one complaint yet. Everybody has been enjoying the 12-minute tee times. The rounds of golf have actually been a little bit quicker just because we are spaced out a little bit more, so everybody is fairly happy."
Elmwood was using pool noodles in the hole to open the season as the flagstick is not allowed to be touched or removed by golfers.
"We ordered those levers that pull the ball out. We did spend some money on it, but we think it's going to make a much more enjoyable experience for your ball to actually go down into the hole. All you have to do is take your putter and there is a lever on the side of the flag and you lift up and your ball comes rolling out. It's pretty neat and it will be nice to putt into a full hole," Rumancik explained.
Rumancik said that there has been no pushback from golfers on the new rules.
"One of the biggest is only one person per cart. That's been a challenge just because we only have 40 carts… We do get fairly close on running out of carts, but we've managed to order a couple in just to make sure that we don't want people to show up and not have a cart, but we are also encouraging people to walk as well."
Rumancik said that the opening four days were nearly booked up completely. "I anticipate the weekends being fairly busy this year as golf is one of the only things that we can do now, there is not a lot of stuff that we can just get out and do. I think golf is going to be a bit busier. If you're thinking of playing, try to call a couple days ahead. Our guests are allowed to book three days ahead of time. Just always plan ahead."
Swift Current's Kyle McIntyre made it out for nine holes at the Streambank Golf Club in Eastend over the weekend.
"I always enjoy the first round of the year. It is typically my best then it goes downhill the rest of the summer. This year, for some reason, I was a bit apprehensive but once I played the first hole I relaxed."
McIntyre said that the new rules were very apparent at the course.
"Arriving at the course the first thing you notice is that the clubhouse is closed and there is a mailbox slot and a sign indicating you can either e-transfer or put a cheque in the mail slot. There are no ball washers on the tee box and the cups in the hole are raised so you are putting into a pvc ring. Definitely more warning signage."
McIntyre expects to be on the course more this season than in past years.
"Yes I absolutely am going to play more. With the prospect of the baseball season being shortened, modified, or cancelled due to social distancing and limiting gathering numbers I will definitely get outside with my son to golf."
Swift Current's George Bowditch was able to get out to the Chinook Golf Course for a round over the weekend.
"It felt great to get out on the golf course. It was nice to be outside doing something I have enjoyed for years," he said.
He too noticed a few of the changes on the course.
"The biggest change that I noticed was having the holes filled with part of a pool noodle in them. I was a bit used to not touching the flag as last year you were able to putt with the flagstick in. You put up with changes like these because it is for the best choices for everyone. Staff were well informed and pleasant,"
The local golf enthusiast also expects to be on the course a lot this season.
"I plan to golf as much as I can this year as long as it remains safe and the facilities are managed the great way they are doing right now. I love to golf so this great."